Crude Math: What Is Really Impacting Gasoline Demand
|
Wednesday, February 22, 2012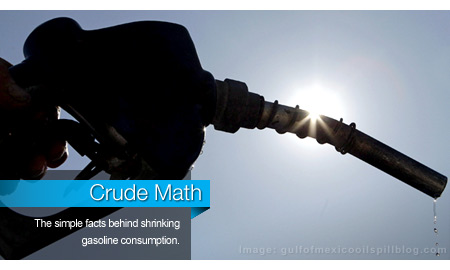 Putting together a mosaic of the data to understand what is going on with gasoline demand is not too difficult. That is why I typically smirk when I hear some pundit on television claiming that the shrinking demand is due to some temporary setback (like our economy). It makes me think of the quote attributed to William O'Neil:
"Since the market tends to go in the opposite direction of what the majority of people think, I would say 95 percent of all these people you hear on TV shows are giving you their personal opinion. And personal opinions are almost always worthless ... facts and markets are far more reliable."
So, here are the facts regarding gasoline demand:
MasterCard Advisors' SpendingPulse, for the week ending February 10, 2012, reported that gasoline demand fell 3.1 percent to 8.01 million barrels compared to the previous week. Using a four-week moving average, demand fell 5.3 percent year-over-year versus 2011. The 47th consecutive decline in the four-week average versus one year ago results should give even the casual observer a reason to suspect that something other than a temporary event is the catalyst behind the change in demand.

According to the Federal Highway Administration, annual vehicle miles driven in the U.S. peaked in November 2007. Using 12-month moving averages, annual miles driven in 2011 were 2.3 percent below peak levels of 2007. Furthermore, vehicle miles driven were consistently improving on a year-over-year basis prior to the peak in 2007. Since 2007, the FHA has reported declines in two of the four years.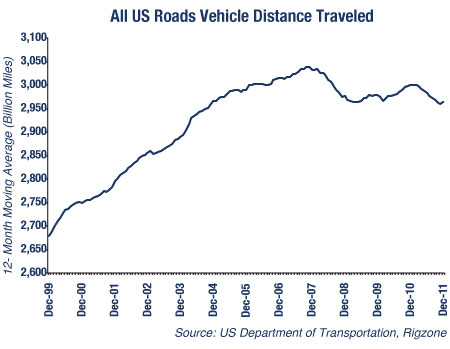 So why is it happening now?
Both pump prices and unemployment have in the past played a hand in U.S. gasoline demand destruction. But employment trends are gradually improving and gasoline prices, while higher than we would like, are not quite to levels that typically spur behavioral shifts for the average consumer. The culprit is the aging U.S. population!
The U.S. Census Bureau confirms that in 2009 there were 75 million or 35 percent of U.S. drivers between the ages of 45 and 65 years. Cutting off the group at age 55, we see that 33 million are in the home stretch towards retirement. Since miles driven decrease dramatically post retirement, our aging population (that as a group will create the most retirees we will see in our lifetime) is having an impact on gasoline demand.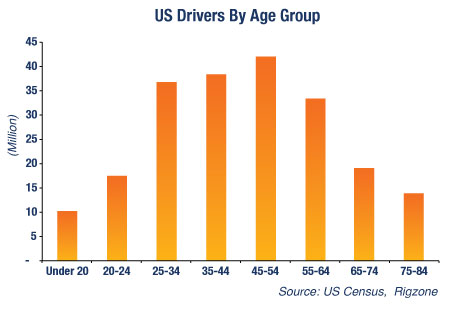 Using Californians as a proxy for driving patterns, we cross-referenced the number of drivers with the average miles driven by cohort groups to illustrate the rapid decline. Combining the two, we see that drivers over the age of 65 will put 43 percent fewer miles on a vehicle annually than individuals just 10 years younger. So, with one-fifth of all U.S. drivers reaching retirement age in 10 years, this secular trend surely has a greater weight on gasoline demand than other commonly cited factors.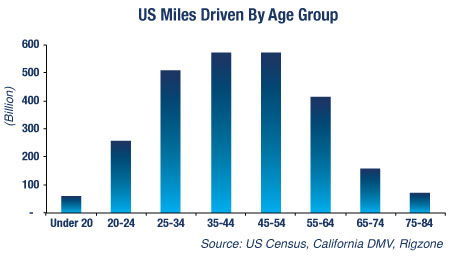 We will illustrate the basic change underway using "crude" math to summarize our findings. A total of 33 million (drivers between ages 55 and 64 years) implies 3.3 million drivers will hit retirement age in the next 12 months. Conversely, over the past 15 years the U.S. driving rolls have averaged a gain of 2.3 million drivers per year. So, a net 1 million drivers, who on average travel 6,000 miles fewer during a year, points to an average trend of 6 billion fewer miles driven than the preceding year. We expect this amount of loss per year to continue through 2021.
So, don't be fooled when someone on your favorite news outlet starts talking about refinery closures. Refiners are obviously well aware of these trends and are accordingly adjusting their capacity to account for this secular shrinking demand over the next 10 years.
Generated by readers, the comments included herein do not reflect the views and opinions of Rigzone. All comments are subject to editorial review. Off-topic, inappropriate or insulting comments will be removed.