Anadarko Shuffles Management
by Dow Jones Newswires
|
Isabel Ordonez
|
Tuesday, February 21, 2012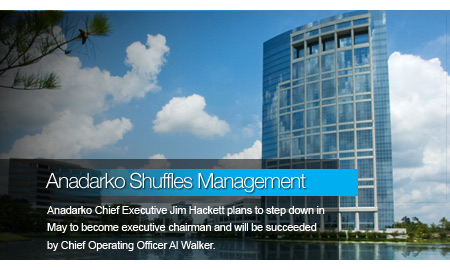 HOUSTON - Anadarko Petroleum Corp. Chief Executive Jim Hackett plans to step down in May and will be succeeded by Chief Operating Officer Al Walker.
Hackett, who has been CEO for more than eight years, will become executive chairman--a new position--through the company's annual shareholder meeting next year. He plans to retire in June 2013.
Speaking to reporters during a conference call, Hackett said that the transition has been planned "for a while" and that it was the perfect time to make changes because the company is in "great shape."
In a letter sent to employees disclosing the changes, Hackett said he is "certain that Al shares a commitment to the established Anadarko values and strategy." He added that the transition should come as no surprise as he has "periodically mentioned in Town Halls and employee birthday lunches that the ideal term for a public company CEO is about five to eight years."
Asked about the possibility that the company could become an acquisition target, Hackett said market forces will determine if that is the case. The company will continue to work on creating more value for shareholders, he said.
Hackett has a reputation as a skilled deal maker in the energy industry, which had led many to believe he could try to sell Anadarko, for the right price. Before joining Anadarko in 2003, Hackett was Devon Energy Corp.'s chief operating officer, following Devon's merger with Ocean Energy. He was Ocean Energy's chief executive from 1999 to April 2003.
In note to clients, UBS said it expects investors to interpret the leadership change at Anadarko as meaning a reduced likelihood of a sale of the company, but the bank said it believes Anadarko remains a viable takeover candidate as the company will still be influenced by Hackett.
Walker, who also spoke during the conference call, told reporters that he plans to continue with the same strategy set by Hackett.
Walker, 55 years old and a 30-year industry veteran, has been with Anadarko for more than six years, serving in roles of increasing responsibility.
When Walker assumes the CEO position, his based salary will increase 63% to $1.3 million from $800,0000, while his incentive bonus will rise to 130% of base salary from 100%, according to a company's filing with the Securities and Exchange Commission. Walker will also receive a promotional equity award equivalent to $3.25 million to be delivered 40% in stock options, 35% in restricted-stock units, and 25% in performance units, according the filing.
Walker is a director of Centerpoint Energy Inc. and Western Gas Holdings LLC, a subsidiary of Anadarko, and general partner to Western Gas Partners LP. Anadarko has operations in major shale fields such as South Texas Eagle Ford shale, the Marcellus shale in the U.S. northeast, and the Haynesville shale in Louisiana. The company is in the midst of a production ramp-up led by increased offshore-drilling activity and by recent exploration successes in Africa and the U.S. Gulf of Mexico.
Anadarko swung to a fourth-quarter loss amid Deepwater Horizon settlement charges and asset write-downs. However, core earnings continued to grow.
Shares were down 2.83% at $85.55, mainly in reaction to the company's weaker-than-expected results from a test well off the coast of Sierra Leone, said Bill Herbert, an analyst with Simmons & Co.
Generated by readers, the comments included herein do not reflect the views and opinions of Rigzone. All comments are subject to editorial review. Off-topic, inappropriate or insulting comments will be removed.
RELATED COMPANIES