Total Becomes Operator of Uganda License after $2.9B Deal
by Tullow Oil
|
Press Release
|
Tuesday, February 21, 2012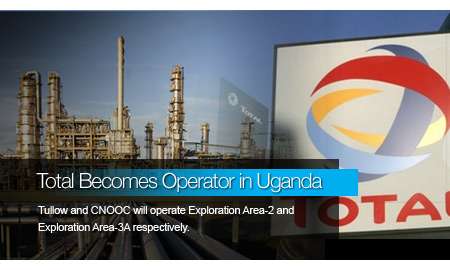 Tullow Oil announced Tuesday that it has completed the farm-down of 66.67 percent of its Ugandan licenses to CNOOC and Total for a consideration of $2.9 billion. The farm-down follows the recent signing of Production Sharing Agreements and the Kingfisher production license with the Government of Uganda.
Tullow, CNOOC and France's Total have been working closely since March 2011 on development options for the Lake Albert Basin and are looking forward to discussing them with the Government of Uganda later this year. It is currently expected that small-scale oil and gas production for the local power market will commence in 2013 from the Kaiso-Tonya area.
Major production from the Lake Albert Basin is anticipated to commence approximately 36 months after a basin-wide plan of development is approved by the Government of Uganda. Based on this timetable, ramp-up to major production would commence in 2016.
In accordance with the Government of Uganda farm-down consents, operatorship responsibilities within the basin will be divided between the Partners. Total will operate Exploration Area-1 (EA-1) and Tullow will operate Exploration Area-2 (EA-2). In the former Exploration Area-3A, CNOOC will operate the new Kanywataba license and the Kingfisher production license.
The Partners are now re-commencing drilling activities in the area to undertake a wide-ranging exploration and appraisal program in 2012. Immediate exploration priorities include drilling the Kanywataba prospect, a series of prospects west of the Nile starting with the Omuka well in EA-1 and further appraisal work in both EA-1 and EA-2.
"I am delighted that we have completed this farm-down with CNOOC and Total, two experienced partners with whom we have already built a strong working relationship," said Tullow Chief Executive Officer Aidan Heavey. "The Lake Albert Rift Basin is one of Africa's most exciting oil discoveries and I look forward to working with our new partners and the Government of Uganda in driving this project towards major production."
Generated by readers, the comments included herein do not reflect the views and opinions of Rigzone. All comments are subject to editorial review. Off-topic, inappropriate or insulting comments will be removed.
RELATED COMPANIES