UT: No Evidence of Groundwater Contamination from Hydraulic Fracturing
|
Friday, February 17, 2012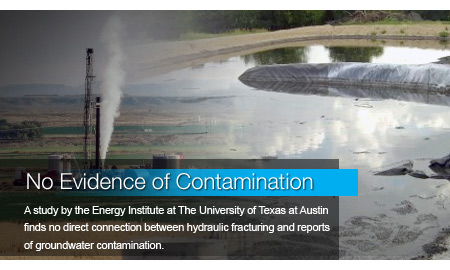 No direct connection has been found between hydraulic fracturing and reports of groundwater contamination, according to a study released Thursday by the Energy Institute at The University of Texas of Austin.
The study found that many of the problems linked to hydraulic fracturing are related to common oil and gas drilling operations such as casing failures or poor cement jobs.
Researchers also concluded that many reports of contamination can be traced to above-ground split or other mishandling of wastewater produced from shale gas drilling, rather than hydraulic fracturing per se, said Charles "Chip" Groat, an Energy Institute associate director who led the project.
"These problems are not unique to hydraulic fracturing," Groat said in a statement.
Researchers examined evidence contained in reports of groundwater contamination attributed to hydraulic fracturing in the Barnett, Marcelus and Haynesville shale plays.
They also identified regulations related to shale gas development and evaluated individual states' capacity to enforce existing regulations, as well as public perceptions of hydraulic fracturing, as derived from popular media, scientific literature and online surveys.
The study found that gas detected in water wells in some shale areas such as the Marcellus could be traced to natural sources and was likely present before shale operations began.
The study also concluded:
Although some states have been proactive in overseeing shale gas development, most regulations were written before the widespread use of hydraulic fracturing.
Media coverage of hydraulic fracturing is decidedly negative, and few news reports mention scientific research related to the practice.
Overall, surface spills of fracturing fluids pose greater risks to groundwater sources than from hydraulic fracturing itself.
The lack of baseline studies in areas of shale gas development makes it difficult to evaluate the long-term, cumulative effects and risks associated with hydraulic fracturing.
In April, the institute will begin a detailed case study focusing on claims of groundwater contamination in the Barnett shale. Researchers will study site preparation, drilling, production and handling and disposal of flowback water, and also will identify and document activities not related to shale development that have resulted in water contamination. The quantity of fresh groundwater used in shale development and evaluate ways to reduce the amount of water used also will be examined.
A second project under development would include a field and laboratory investigation into whether hydrological connectivity exists between water in the units above and below the shale unit being fractured in the fracturing process; this study also will focus on the Barnett shale.
The study's findings were released in Vancouver, British Columbia, at the annual meeting of the American Association for the Advancement of Science.
Generated by readers, the comments included herein do not reflect the views and opinions of Rigzone. All comments are subject to editorial review. Off-topic, inappropriate or insulting comments will be removed.