Encana, Mitsubishi In $2.9B Partnership for B.C. Gas Assets
by Dow Jones Newswires
|
Carolyn King
|
Friday, February 17, 2012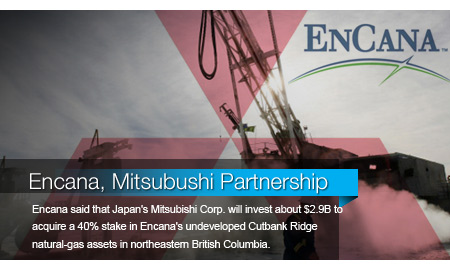 Encana Corp. said Friday that Japan's Mitsubishi Corp. will invest about C$2.9 billion (US $2.9 billion) to acquire a 40% stake in Encana's undeveloped Cutbank Ridge natural-gas assets in northeastern British Columbia.
The deal comes as Japan scrambles to lock in global natural-gas supplies, after last year's devastating earthquake and tsunami forced the country to loosen its reliance on nuclear energy.
The transaction marks only the latest foray by an Asian firm into western Canada's vast energy resources, and isn't the first involving the Cutbank Ridge resource play. Calgary-based Encana had previously entered into an larger agreement to sell a 50% stake in shale-gas assets in northeastern B.C. and northwestern Alberta to PetroChina Co. for C$5.4 billion, but that deal fell through last year.
Under Friday's agreement, Mitsubishi will own 40% of the Cutbank Ridge Partnership, which holds about 409,000 net acres of undeveloped Montney lands in B.C., plus additional development potential in the Cadomin and Doig geological formations. The transaction doesn't include any of Encana's current Cutbank Ridge production of about 600 million cubic feet of natural gas a day, processing plants, gathering systems or Encana's Alberta landholdings.
Encana, which will operate the partnership, said the partners aim to jointly develop production capacity to deliver "abundant natural gas to markets for decades ahead."
Mitsubishi will pay C$1.45 billion on closing, seen later this month. It will also invest C$1.45 billion in addition to its 40% of the partnership's future capital investment for a commitment period, expected to be about five years, thereby reducing Encana's capital funding commitments to 30% of the total expected capital investment over that period.
Encana noted that, despite an increased capital-spending profile on these natural-gas assets resulting from this transaction, it plans to more than offset the near-term impact on North American natural gas production oversupply by capital-spending cuts elsewhere in its natural gas portfolio.
Meanwhile, Encana posted a loss in the final quarter of 2011, a year in which it said its strong operational performance was marred by an oversupply of natural gas, which weighed on prices.
The company lost $246 million, or 33 cents a share, in the fourth quarter, narrower than the loss of $469 million, or 64 cents, it posted in the year-earlier period.
The latest results include a hefty non-cash asset impairment of $854 million after tax, compared with $371 million after tax a year earlier, triggered by lower forecasted natural gas prices and the change in future development plans.
On an adjusted basis, Encana said it earned 6 cents a share in the quarter. The result fell short of the Thomson Reuters mean estimate of 9 cents.
Generated by readers, the comments included herein do not reflect the views and opinions of Rigzone. All comments are subject to editorial review. Off-topic, inappropriate or insulting comments will be removed.
RELATED COMPANIES