Leadership Workshop Aims to Retain Women in Mid-level Careers
by Jaime Kammerzell
|
Rigzone Contributor
|
Tuesday, February 28, 2012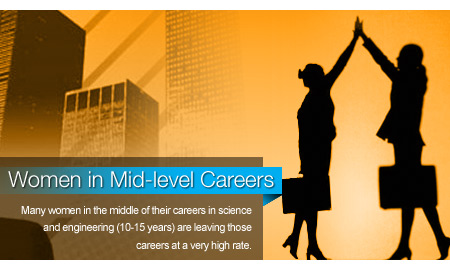 Many women in the middle of their careers in science and engineering (10-15 years) are leaving those careers at a very high rate. According to Carolyn Emerson, project coordinator, Canadian Centre for Women in Science, Engineering, Trades and Technology (WinSETT Centre), as many as half of women leave their technical careers too soon.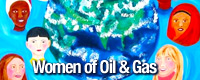 Read More ...
---
O&G Jobs
According to a study, "Stemming the Tide: Why Women Leave Engineering" by Nadya A. Fouad, Ph.D. and Romila Singh, Ph.D., University of Wisconsin-Milwaukee, women leave their technical careers for various reasons.
"Nearly half said they left because of working conditions, too much travel, lack of advancement or low salary. One-in-three women left because they did not like the workplace climate, their boss or the culture."
This is a concern for many organizations that recognize the workplace benefits from diversity. They don't want to lose technical women -- particularly those who want to pursue technical careers -- based on issues that can be addressed.
"Current women engineers who worked in companies that valued and recognized their contributions and invested substantially in their training and professional development, expressed greatest levels of satisfaction with their jobs and careers," Fouad and Singh wrote.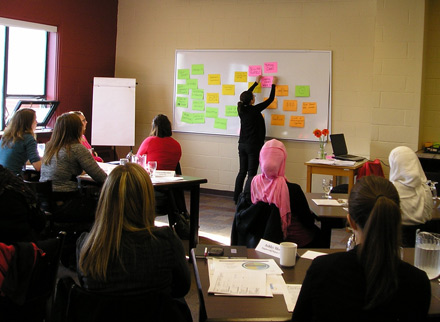 A second study, the "Pipeline for Women is in Peril," by Nancy M. Carter, Ph.D. and Christine Silva, found similar responses.
"Women who worked in companies that provided them with challenging assignments that helped them to develop and/or strengthen new skills and substantially invested in their formal training and development were more satisfied with their jobs and careers, more committed to the field and their companies, and also less likely to want to leave their companies and the engineering field."
The study suggests that, "companies that invest in tailored and specific training and development programs can reap rich payoffs with regard to productivity and profitability gains, reduced costs, improved quality, and faster rates of innovation."
Tailored Training Course
The WinSETT Centre recognized the need to deliver a tailored workshop to women in early to mid careers. Sponsored in part by Status of Women Canada (Women's Program), the Association of Professional Engineers, Geologists and Geophysicists of Alberta, and Suncor Energy Inc., Emerson helped create a professional development workshop for early to mid-career female engineers and scientists called "Becoming Leaders: An Introduction to Leadership Skills and Strategies Workshop." Since 2008, the WinSETT Center has worked with companies including those from the oil and gas sector and other organizations, to customize leadership training for women in the workplace.
Emerson helped design the workshop using knowledge she gained while co-writing, "Becoming Leaders: A Practical Handbook for Women in Engineering, Science, and Technology," with Dr. F. Mary Williams. The idea for the book came from Williams' and others' research and women's actual experience. The book looks at women's challenges and effective strategies they've used in their careers.
"A lot of Dr. Williams' themes and strategies helped form the first Becoming Leaders workshop used by Williams in a variety of settings and then further adapted by the Centre," Emerson said.
The book and workshop stress that working hard to further a career in engineering, science or technology is not enough. Working smart is also a key to a successful career. Leaders work smart and make informed career and life choices.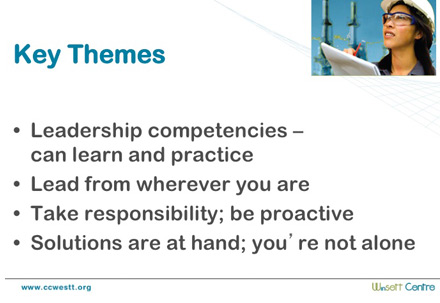 The full day workshop is ideal for groups of 16-20 women.
"Interestingly, for many participants, it is the first time they've been in a room with all females since Girl Scouts," Emerson said.
The workshop encourages women to be proactive in their careers and identify their strengths and challenges. It then facilitates identification of how to leverage their strengths to progress beyond those challenges.
"Success is how you define it," Emerson said. "Not everyone wants to be the chief technical officer or vice-president. Success can be having the tools and recognition to do your current job well and to develop your own career path. And it is often linked with a healthy balance of the personal and professional parts of our lives. We do, however, also encourage and support women into leadership and governance roles in organizations. We share tips and strategies. We talk about vision and values, and courage to make informed and potentially difficult decisions in the workplace."
More specifically, the workshop is a presentation of information, sharing of experiences of leaders in science and engineering sectors, and the active engagement of participants in exercises and discussion to:
Increase awareness of factors that influence career and leadership success
Gain confidence in making career and leadership development choices
Share and acquire useful tips and strategies
Develop a preliminary action plan to advance personal leadership potential
Network with other women with a variety of experiences in SETT sectors
What's Next?
Continuing education workshops aim to encourage women to move forward in their careers. Emerson and partners have listened to the participants who have requested additional workshops targeting more specific skills.
"The introductory workshop has left participants thirsting for more," Emerson said. "The feedback we've received has helped shape what women want to see in future workshops."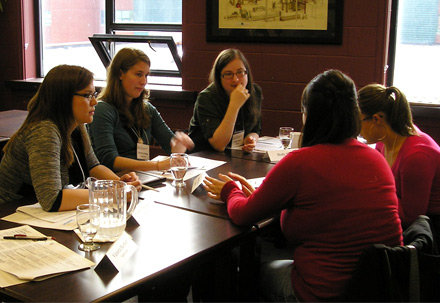 WinSETT's next workshop theme is effective communication, as men and women tend to have different styles of communicating. The Centre will also launch a negotiation skills workshop in June 2012. As with the introductory workshop, the new ones will be customized to each audience and organization.
"Our next series of workshops will let individuals practice more specific skills like negotiating, awareness of workplace settings and how to get resources we need to progress in our jobs," Emerson said. "Leadership skills can be learned and practiced. Be aware of your setting, be proactive and seize opportunities. These themes will continue to influence future workshops."
Future workshops also will look at mentorship and the power of networks.
"Again, women and men network in different ways and build relationships differently," Emerson said. "Men look for relationships and how they can help in business success. Women look at situations differently and relate in a different context."
Some of the women and other individuals from industry and professional organizations have also asked for a similar process to help supervisors and managers examine the culture of their workplace, the factors that affect the success of their employees and effective practices to encourage employee success and reap the benefits of diversity. So, the Centre also will pilot a gender diversity workshop for managers and leaders.
As women succeed and lead in their own style, there is an opportunity to affect the culture of the workplace to make it welcoming and supportive for others. In particular, it shows younger women that there is a place for their talents as well.
Generated by readers, the comments included herein do not reflect the views and opinions of Rigzone. All comments are subject to editorial review. Off-topic, inappropriate or insulting comments will be removed.