Recruiting and Retaining Women
by Jaime Kammerzell
|
Rigzone Contributor
|
Tuesday, February 21, 2012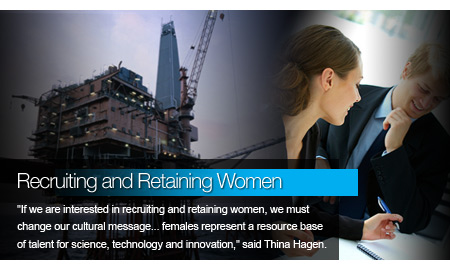 The oil and gas industry has long been stereotyped as a male profession. However, recruiting women is not only a necessity, but also an advantage to industry-related companies. With the looming shortage of skilled labor and technical experts, innovative recruiting and retention practices are instrumental in building a strong organization in the future.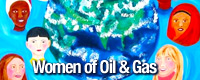 Read More ...
---
O&G Jobs
"If we are interested in recruiting and retaining women, we must change our cultural message to show that females represent a resource base of talent for science, technology and innovation. Males account for 80 percent of the oil and gas force. Our challenge is to convince young women entering university that it is not something better suited for men, but that men have simply had the most relevant education and expertise so far," said Thina Hagen, development manager, Norwegian Oil Industry Association.
The values, interests, experience and approaches women bring to the sciences differ from those contributed by men, and can lead our industry and its technology in new directions, Hagen pointed out.
Recruiters should help women choose the right education for an oil and gas industry job. Many women interested in a career in the industry lack the necessary skills. They need to study science and technology or earn an engineering degree if they want to work in this field.
When talking to young women who are choosing a field to study, "petroleum-related subjects and our industry will represent something new," Hagen said. "We must bear this in mind and present ourselves as something other than a protest movement – that we can offer something a modern woman wants to be part of; something that is feminine and that suits the interests and ideals they want to live up to."
Few oil and gas companies have made great efforts to attract young women. According to Carolyn Emerson, project coordinator at the Canadian Center for Women in Science, Trades and Technology, companies with successful diversity programs have partnered with women's organizations to make public presentations or run career fairs that specifically target young women. Emerson also suggested offering tours, job shadowing and career information projects to high school and university women.
Attractive Workplaces
Women expect more today from their workplace. A supportive environment that recognizes the importance of professional development, flexible work schedules, and good family policies is a workplace in which women will be more likely to gravitate toward.
Susan Howes, former Chevron manager of the Horizons Program, gave Tips for Young Women entering the industry in an SPE publication. Aside from conventional reasons for choosing an employer, Howes noted that women look to see if "there are women executives and women in highly placed technical positions who have been well regarded by the company over their careers."
Benefits also play a critical role for women considering a position within a company. Women just entering the workforce are more likely to remain in the workforce if the organization's benefits make it easy to do so. Work/life balance is important to young women in dual career households who share care for children and possibly elderly parents. Therefore family-friendly policies like health insurance, leave of absence provisions for maternity/paternity leave, day care assistance and flexible work schedules are attractive to women.
"Best Practices for the Retention of Women Engineers and Scientists in the Oil and Gas Sector," a report from New Frontiers, New Traditions -- a national conference for the advancement of women in engineering, science and technology -- also suggests creating technical training opportunities, leadership development and mentoring programs for women.
Even if women just entering the workforce fail to consider how their priorities will shift over time, advancement training will help retain women. A company that can alleviate the challenges women face as they advance through the company, is one in which women will grow with and lead into the next decades.
Minimizing the loss of talent, according to the New Frontiers, New Traditions report is one of the greatest economic advantages to creating a successful diversity program.
Emerson made reference to the Athena Report in her paper, Increasing Women in SETT: The Business Case, which found 41 percent of highly qualified scientists, engineers and technologists on the lower rungs of corporate career ladders are female, but more than half (52 percent) drop out of mid-level careers.
Repetitive recruiting, training and developing employees just to lose them can cost up to four times as much than it would to provide benefits for job satisfaction. Thus, creating a workplace that supports women can increase retention rates and decrease turnover costs. Organizations that offer individualized career development and "provide returning on-ramps for women on leave will see a return on investment and save on the high costs of turnover, Emerson said.
By providing opportunities to stay in contact with the workplace while on leave, such as including women on parental leave at major project meetings so they keep connected to colleagues and projects and paying for childcare to facilitate those meetings, is one way a company can express a woman's value to the company.
Oil and gas companies can offer all of the benefits and opportunities for advancement noted above, but the employee is equally responsible for her future. She needs to take ownership of her career, learn from experienced employees and enjoy her ride up the corporate ladder.
Generated by readers, the comments included herein do not reflect the views and opinions of Rigzone. All comments are subject to editorial review. Off-topic, inappropriate or insulting comments will be removed.