What's Happening in the February 2012 World Oil Market, Anyway?
|
Monday, February 20, 2012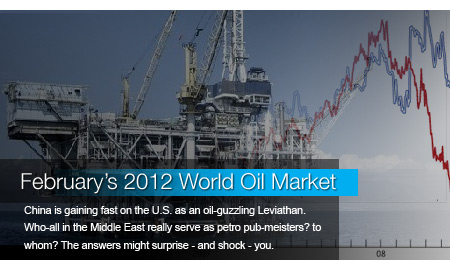 February 2012 Focus:
The China-U.S. Oil "Slurping" Contest ...
and Which Middle East "Petro-Pubmeisters"
Are Most "On Top"
Boom, boom, mini-bust, boom … goes China's burgeoning oil demand, featuring massive gulps and slurps of petro-fuel every day.
Not to be outdone: Slurp, slurp, guzzle,gulp SLURP, goes the United States' own long-running #1 oil-gobbling act.
Where is this Oil Sot contest going to end?
And who all really supplies it?
Read on ...
China Comes of Oil Age
China is the most-populous nation in the world, with some 1.3+ billion people, per the World Bank's latest 2012 estimate. It's also a robustly growing, rapidly modernizing oil guzzler, second only to the United States in its chronic and seemingly incurable "oil-a-holism."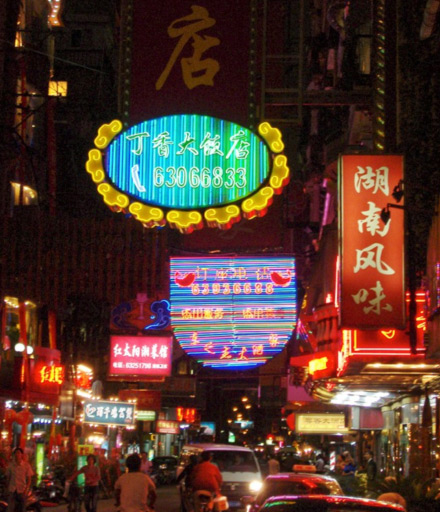 A Night Scene in China: Asia's answer to New York's "Times Square?"
Together, the U.S. and China are like a two-headed, modern-day, oil-drinking Leviathan – and guess who-all are "on tap" for them in the world's petro-brewing capital: the Middle East?
Did you guess, perchance, Saudi Arabia?
Ding!
Right, but only partly right.
Look at China's top 10 oil suppliers, vs the U.S.' for 2010, the most recent aggregated and comparable data available: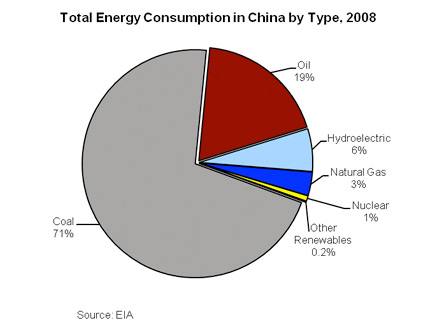 The Saudis are a stable, reliable, peace-conscious supplier when it comes down to it ... but the likes of Iran, Iraq, Sudan etc, China's also-popular "petro-pubmeisters," seem to ring alarm bells in some quarters.
Below is the story, written for Rigzone in summary form by Shahriar Hendi, independent energy consultant, Vancouver, Canada, titled "U.S. vs. China-Middle East Policy," February 13, 2012.
But first, a brief non-commercial break, sponsored free by the folks at the U.S. Energy Administration (EIA.)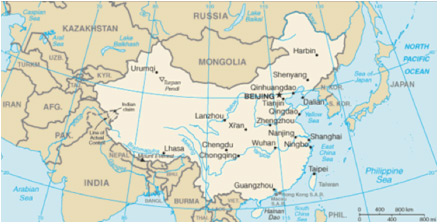 China's Energy Choices & Challenges: Fast Facts
China is the world's second largest oil consumer behind the United States, and the largest global energy consumer, according to the International Energy Agency (IEA).
China was a net oil exporter until the early 1990s and became the world's second largest net importer of oil in 2009.
China's oil consumption growth accounted for more than one-third of the world's oil consumption growth in 2010.
Natural gas usage in China has also increased rapidly in recent years, and China has looked to raise natural gas imports via pipeline and liquefied natural gas (LNG).
China is also the world's largest producer and consumer of coal, accounting for almost half of the world's coal consumption, an important factor in world energy-related CO2 emissions; and, according to the consultancy EC Harris, in 2010, China was the world's top investor in renewable energy projects, having invested around $120 billion to $160 billion between 2007 and 2010.
That being said, Shahriar Hendi Says:
"Due to a phenomenal economic growth rate of 8-10 percent per year, China's thirst for energy is growing rapidly and is expected to double by 2020 and even quadruple by 2050."
"China is expected to outpace the U.S. as the world's top oil importer sometime after 2030."
"For the time being, the Chinese economy is mainly coal-based (70 percent). However, drastic CO2 emissions is pushing China towards energy substitution, i.e., from coal to oil and gas at the first stage (to 2030), and to renewable energy at a later stage (to 2050).
U.S.- China-Middle East policy is passing through a very crucial stage and such conditions are expected to continue until 2030. Dependence on oil means dependence on the Middle East – home to 70 percent of the world's proven reserves.
According to International Monetary Fund (IMF) forecasts, China's economy is expected to surpass that of America in real terms by 2016.
The United States is not in a position to halt or even slow down China's economic growth, but as the world's top military power, the U.S. is in a position to exercise control over China's main source of oil imports, i.e. the Middle East. The U.S. will implement such control through its military presence in the Middle East, as well as keeping a constant eye over strategic chokepoints to supervise China's imported oil maritime routes."
"Meantime -- and for the years to come -- the U.S. will also be busy with a widespread 'stabilization' plan within the Middle Eastern societies, which is already underway under the title of 'Arab Spring'."
"The Chinese, on the other hand, would probably leapfrog from oil, if they could, until they manage to efficiently reduce dependence on fossil fuels and turn into a clean energy based economy. Such a goal seems to be viable only after 2030. Until then, China would concentrate on a conditional coexistence with the U.S., while benefiting from its position as the largest creditor nation and foreign holder of U.S. public debt.
In the new Obama Doctrine, China, the Pacific and the Middle East are at the forefront of the U.S. defense strategy during the next decade. Europe will no longer be a U.S. priority, as it was during the Cold War.
The likely related developments in 2012 are expected to be further U.S. efforts to expand its military and non-military presence in the Middle East through extending 'social engineering' plans to Syria, Iran and Saudi Arabia. Iran, Iraq and the Arabian Peninsula are at the core of the energy reserves in the Middle East and therefore, among the priorities of Chinese foreign policy.
For several years to come, both China and the U.S. will maintain high interests in the Middle East, with 'energy security' being the main key driver for the former, and 'geopolitics of energy' for the latter."
Now, if that "ain't" fuel for thought, what is?
Recommended Further Reading:
Generated by readers, the comments included herein do not reflect the views and opinions of Rigzone. All comments are subject to editorial review. Off-topic, inappropriate or insulting comments will be removed.