Bills Seek to Ban U.S. LNG Exports
by Karen Boman
|
Rigzone Staff
|
Wednesday, February 15, 2012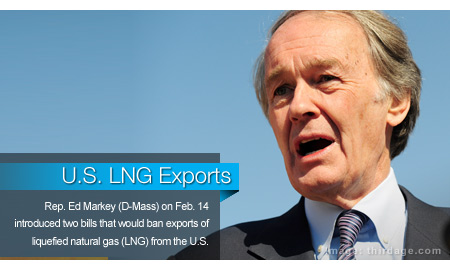 Rep. Ed Markey (D-Mass) on Feb. 14 introduced two bills that would ban exports of liquefied natural gas (LNG) from the U.S.
The first bill, North America Natural Gas Security and Consumer Protection Act, would prevent the Federal Energy Regulatory Commission (FERC) from approving new LNG export terminals until 2025.
The second bill, the Keep American Natural Gas Here Act, would require that gas produced from taxpayer-owned federal lands would have to be resold to U.S. consumers. The bill also stipulates that any gas pipeline for which a right-of-way has been issued to cross federal lands must offer that gas for domestic sale only.
"Low natural gas prices are a competitive advantage for American businesses and a relief for American families, and exporting our natural gas would eliminate our economic edge and impose new costs on consumers," said Markey. "This is America's natural gas and it should stay here in America."
Markey has filed an amendment on the transportation bill schedule for debate on the U.S. House of Representatives floor later this week that would prevent gas extracted from drilling from being sold to overseas markets.
The U.S. shale gas boom, which has unleashed a surplus of natural gas on the U.S. market, and depressed U.S. gas prices has prompted a number of companies that had previously built LNG import terminals to add liquefaction capacity at these facilities to take advantage of strong gas demand and prices in overseas markets such as Asia.
Discussions over the possibility of U.S. LNG exports have been taking place in the past few years. However, concerns over the impact of LNG exports on U.S. gas prices – and the environmental concerns surrounding hydraulic fracturing – have caused controversy.
In January, the U.S. Department of Energy reported that increased gas exports would result in higher U.S. gas prices. A report released last December by Deloitte reported that U.S. LNG exports would have a "modest impact" on U.S. gas prices.
The Sierra Club on Feb. 7 filed a formal objection with the U.S. Department of Energy against the export of natural gas from hydraulic fracturing, challenging facilities at Cove Point, Md., Sabine Pass, La. and Coos Bay, Ore.,
"Liquefied natural gas is not only the dirtiest and most polluting form of gas, but it also requires an increase in fracking; a process we know to be unsafe and dangerous," said Deb Nardone, director of Sierra Club's Natural Gas Reform Campaign.
While they are not marching on Washington, some chemical manufacturers also are opposed to U.S. LNG exports, as the ample supply of U.S. gas provides low cost feedstock, Alan Herbst, principal of New York-based Utilis Advisory Group LLC, told Rigzone on Wednesday. A number of companies that had build plants overseas, thinking costs would be cheaper, have now found gas in the U.S. to be far cheaper than Europe or other markets.
"Cutting a little gas production won't solve the problem" of too much gas, said Herbst of recent announcement by some companies that they would shut in gas production due to depressed prices. "We need to create more demand for natural gas." He noted that utilities that can switch to natural gas from coal are doing so.
Generated by readers, the comments included herein do not reflect the views and opinions of Rigzone. All comments are subject to editorial review. Off-topic, inappropriate or insulting comments will be removed.
MORE FROM THIS AUTHOR
Karen Boman
Senior Editor | Rigzone