Falkland Islands: Oil Opportunity Amid Rising Diplomatic Tensions
by Jon Mainwaring
|
Rigzone Staff
|
Thursday, February 16, 2012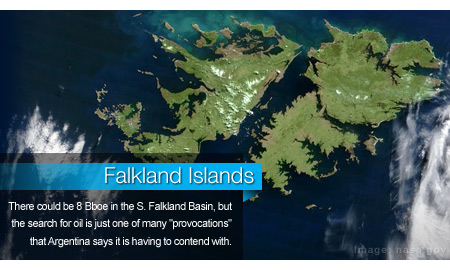 After many decades of speculation that the seas around the Falkland Islands in the South Atlantic are hiding substantial oil reserves, last year saw one UK company finally make a significant oil discovery in the region. And, as tensions rise between the UK and Argentina over the sovereignty of the islands, oil sector analysts in London and New York have come up with estimates suggesting that the Falklands contain enough oil to rival that still left below the North Sea.
Until last year, the history of the Falklands oil industry had been rather disappointing. For example, six wells were drilled in the North Falkland Basin in 1998, with oil and gas shows recorded in five of these six wells, but the low oil price at the time meant that none of these could be a commercial success.
Even back in the early 1980s, to the south of the islands in the Malvinas Basin (in Argentine waters), a drilling campaign involving Exxon led to a couple of wells testing for oil and gas. But these were not pursued.
Hydrocarbon exploration around the islands has only started to be taken very seriously by the industry (and oil and gas investors) during the past couple of years – a period which has seen two UK companies conduct drilling campaigns in the North Falkland Basin with mixed success.
Sea Lion Discovery
Last spring, Rockhopper Exploration made the first oil discovery in the north basin after a drilling campaign using the Ocean Guardian (mid-water semisub) rig found hydrocarbons at the Sea Lion prospect. Today, now that Rockhopper has ended its 10-well drilling campaign, the Sea Lion discovery is estimated to contain between 568 and 1,428 million barrels of oil in place.
Desire Petroleum, itself drilling not far from the Sea Lion discovery, has had far less success. After a six-well drilling campaign it has, so far, been involved in no discoveries beyond dry gas and condensate found at its Liz well and a few oil shows.
Desire did get its investors' hopes up in December 2010 when it announced an oil discovery at its Rachel North well that within days was reported to be, in fact, little more than residual hydrocarbons. The well was plugged and abandoned.
In spite of this, Desire says its wells – along with Rockhopper's Sea Lion discovery – have provided significant encouragement for the potential of the North Falkland Basin.
After completing a 3D seismic survey last year, Desire farmed out two areas to Rockhopper – one of which includes a possible extension to the Sea Lion discovery and is seeing Rockhopper assume operatorship.
Meanwhile, a third company with licenses in the North Falkland Basin, Argos Resources, opted not to participate in last year's drilling campaign with the Ocean Guardian rig. This was partly because the rig was available to the firm for the drilling of one well only, but also because Argos' management felt that the weak capital markets at the time would not be able to provide financing for two or more wells even on highly-dilutive terms for the firm's stockholders.
Argos has reported that it has identified a large inventory of attractive prospects in the north basin zone from 3D seismic data acquired early in 2011 and that this inventory "justifies several exploration wells being drilled". The firm's current plans involve finishing the interpretation of its 3D data in order to prepare its license for farm-out, and it expects to complete this by mid-2012.
8 billion barrels
The main focus in 2012 is on the South Falkland Basin, where after an 18-month break exploration drilling resumed at the beginning of this month. Two UK companies are conducting a drilling campaign across four wells that are targeting as much as 8 billion barrels of oil equivalent combined.
On Feb. 1, Borders & Southern Petroleum announced it had spud its 61/17-1 exploration well on the Darwin East prospect with the Leiv Eiriksson rig (DW semisub). The drill is expected to take some 45 days to complete.
This 61/17-1 well, located some 87 miles (140 kilometers) south of the Falkland Islands, is the first of two that are being drilled by Borders that, together, are targeting around 2 billion barrels of oil equivalent.
Later in the year, using the same rig, Falkland Oil & Gas will drill exploration wells on its Loligo and Scotia prospects, where as much as 6 billion barrels might be contained. FOGL expects to begin drilling the first of these wells, on Loligo, at the beginning of May.
"We are fairly confident that there is a petroleum system working there. The question is if it's commercial," FOGL CEO Tim Bushell told Rigzone recently.
Bushell's firm has spent 10 years working on the South Falklands Basin project and done "a tremendous amount of previous investigation in terms of seismic and various other analyses", he said.
Bushell told Rigzone that, generally, there is a perception of around a one-in-five chance of success for each well in the south basin, with some of the lesser prospects having around a one-in-10 chance.
"In our case we've got 50-odd prospects that we've identified. A huge amount of work has gone into looking at those in great detail to try and choose the [targets] that are the lowest risk," he said.
Clues that Suggest a Commercial Hydrocarbon System
Charlie Sharp, a London-based oil analyst who is following the South Falklands Basin drilling campaign for Canadian financial services firm Canaccord Genuity, believes there are a few clues that back up the view that a commercial hydrocarbon system might exist in the area.
"It's not quite an undrilled basin. FOGL themselves already drilled one well there, the Toroa prospect, which was disappointing. But they did find some source rock, which is obviously helpful, with the potential for generating hydrocarbons, and also some reservoir rock, which therefore has the potential for storing those hydrocarbons.
And in the eastern side of the basin, which is a much bigger area than the basin to the north of the Falklands, a project which was called the Deep Sea Drilling Project, which many countries subscribed to, that went around taking little measurements in all sorts of parts of the world, actually drilled and found a bit of source rock in the eastern side of the basin.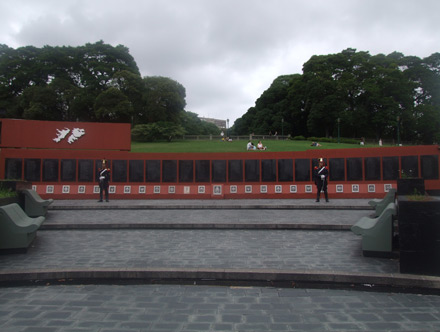 And, perhaps most interestingly, in what's called the Malvinas Basin, which is considered to be connected to the South Falklands Basin but is in Argentinean waters, a number of wells were drilled in the early 80s largely by Exxon and they had a lot of failure but there were a couple of wells that did test oil and gas. It is believed to be connected to the same sedimentary basin that Borders and FOGL are drilling. So, there's enough reason to think there is a source rock, that there are reservoir rocks, and that there are signs that that source rock has turned into both oil and gas and has been stored in what have been subsequently declared to be sub-commercial finds."
But, Sharp pointed out, exploration in the Malvinas Basin did peter out in the 1980s for reasons that are unclear.
"It's hard to know whether that was because of Argentina being a difficult place to do business in the 1980s anyway or because in 1982 they had a war and nobody wanted to go back, or because the geology wasn't really up to it," he said.
British "Provocations"
No examination of the Falklands oil sector would be complete without a mention of the international dispute between Argentina, which calls the islands 'Las Malvinas', and the United Kingdom over the sovereignty of the British Overseas Territory.
In 1982, the two countries fought a short, but bloody war over the Falklands, which the UK won. But the run-up to the 30th anniversary of that conflict has seen diplomatic tensions increase.
Argentina appears to be mounting a campaign to build support for its view that the islands belong to it by virtue of their proximity to the South American continent, while the British government is maintaining its long-held policy that as long as the population of the Falkland Islands (some 3,000 people) want to be British, then the UK will defend their right to remain so.
Argentina has also encouraged other South American countries to restrict trade with and commercial flights to the islands. In December, for example, Argentina's neighbor Uruguay banned Falklands' flagged vessels from entering its ports.
Very recently, at a meeting of Latin American leaders in Caracas, Venezuela, the Argentine foreign minister Héctor Marcos Timerman argued that the Malvinas (Falklands) issue is a common cause of all of Latin America and the Caribbean.
Timerman used the meeting in early February to attack the UK for recently deploying a warship (HMS Dauntless) to the South Atlantic while allowing Prince William – second in line to the British throne but also an officer in the Royal Air Force – to be stationed on the islands for six weeks of air-sea rescue helicopter training.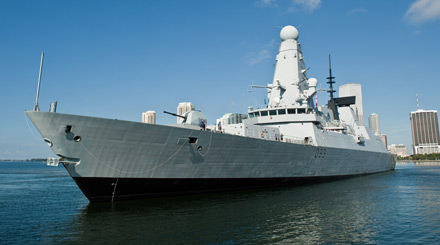 The drilling for oil is also a provocative act as far as the Argentine foreign minister is concerned, with Timerman saying: "The sending of warships, the presence of a royal heir in a military uniform and the exploitation of fishing and hydrocarbons, without permission, in Argentine waters, usurping goods that belong to the Argentine people, not only escalates an unnecessary dispute but carries environmental risks and shows that the UK is run on colonialist considerations and behaves as if it were above the international legal order, ignoring many decisions of the UN and calls for regional forums to reestablish dialogue with Argentina".
The UK's Foreign Office responded by stressing that "there would be no negotiations with Argentina on sovereignty unless the Islanders wish it", adding that that the UK is "not militarizing" the South Atlantic, though the UK remains "firmly committed" to the defense and security of the Falklands.
The Foreign Office statement concluded: "UN action is a matter for Argentina. The Falklands is already discussed annually in the C24 Committee. The UK has no doubt about our sovereignty over the Falklands, and the principle of self-determination, as set out in the UN Charter, underlies our position."
Argentine Bluster
What does this mean for the Falklands' burgeoning oil sector and for those investing in the companies drilling down there?
As far as Falkland Oil and Gas' Bushell is concerned, it is Argentine bluster.
"A lot of it is, obviously, politically motivating Argentina to divert attention away from their own domestic issues, as it always has been. So we try to ignore it," Bushell said. "This year you can't ignore it because of the anniversary and everything, but the point for us is that from an operating standpoint it doesn't interfere in what we are doing… and that's just because we set up our operation to be run from the Falklands. We bring all our equipment into the Falklands through international waters and, actually, the Falklands from an operational standpoint is the most sensible place to run a drilling operation. It's nearest. Whilst there are ports in Argentina, they are about 300 miles away."
Bushell stressed that during the drilling campaign run by Rockhopper and Desire, both firms did exactly the same thing.
"If we get into development production, then again the islands make the most sensible place to run an operation from. In that sense, as long as the British government maintains its position and as long as the Falkland Islanders want to stay British, then we can move ahead and having noisy neighbors really doesn't stop us doing anything.
This whole shipping embargo thing, for example, again is overplayed. It is only for Falklands-flagged vessels and we can sail in and out of the Falklands without going into Argentine waters anyway. Any Falklands vessels, and they are mainly fishing boats, they fly that Falklands flag because they like flying it but they are actually allowed to fly the Red Ensign [the flag of the UK's Merchant Navy] anyway, so they simply just change the flag on the back of the boat. So, it is just completely daft!
The only thing it does have a bearing on is, obviously, if you are going to try and raise debt finance for a development, which is where Rockhopper possibly is now, some of the banks may not want to go near it because those banks are involved in South America, particularly Argentina, and so that possibly limits to a degree where you can borrow money from. And also that has slightly the same effect on trying to bring in an industry partner. Then, obviously, some oil companies that have interests in Argentina are not going to want to play in the Falklands."
Canaccord's Sharp was reluctant to say whether he perceives the noises coming out of Argentina as being a major problem for Falklands oil or not. But, he told Rigzone, "I think the thing about it is that, almost regardless of what the reality is underlying Argentinean/South American/Latin American feelings towards the Falklands Islands, it will be perceived as a risk in the London market."
However, he agreed with Bushell's view that Falklands' oil operations are unlikely to be affected as demonstrated by the Leiv Eiriksson (UDW semisub) being moved late last year from Greenland to the islands without calling into any countries that are unfriendly to the Falklands.
"All of the services are delivered out of Aberdeen by boat and there's a flight from the UK to Stanley that goes via Ascension Island [another British Overseas Territory in the South Atlantic]," added Sharp.
Logistical Challenges: Oil or Gas?
Longer term, should the Falklands explorers uncover major reservoirs of hydrocarbons and field development takes place, the logistical challenges might become more interesting, according to Sharp.
"If there is a development and all the logistics necessary for that – which would be an upgrade of the harbor, helicopter facilities and all of those things – then that would be a much bigger operation and I guess it could still be all managed out of Aberdeen or wherever it's had to come from," he said. "But, it is another scale of problem compared to the current business, which is obviously manageable and seems to be working okay."
Another issue is whether any hydrocarbons found turn out to be oil or gas. According to Sharp, it would be pretty straightforward to transport oil.
"The idea I think would be a pretty standard one and that would be a floating, production, storage and offtake vessel: an FPSO," he said. "I doubt there would be any fixed platform. It would be very similar, for example, to Tullow in the deep water of Ghana. So, it's a number of wells, and what's called subsea completion, and tied back to an FPSO, which as the name suggests, would process and store and periodically would be another tanker and just pick up the oil and take it to wherever the market is," Sharp said.
Gas is more difficult.
"First of all you've got to find a significant amount of it because there is no nearby market that you can pipe the gas too," said FOGL's Bushell. "Even if Argentina was open, the cost of running a pipeline to the actual industrial parts of Argentina would make it a non starter.
Bushell continued: "If we found a significant quantity of gas, we would actually pipe the gas to the islands and build an LNG plant there. But the minimum amount of gas that we would have to find is at least about five or six trillion cubic feet.
"But the prospect we're going to drill first, Loligo, if that is full of gas rather than oil it could contain anything between 20 and 30 tcf of gas," added Bushell
Certainly, those sorts of hydrocarbon possibilities to the south of the Falkland Islands mean that many eyes – not just Argentine or British ones – will be watching the area closely during the next few months.
Generated by readers, the comments included herein do not reflect the views and opinions of Rigzone. All comments are subject to editorial review. Off-topic, inappropriate or insulting comments will be removed.
RELATED COMPANIES
For More Information on the Offshore Rig Fleet:
RigLogix can provide the information that you need about the offshore rig fleet, whether you need utilization and industry trends or detailed reports on future rig contracts. Subscribing to RigLogix will allow you to access dozens of prebuilt reports and build your own custom reports using hundreds of available data columns. For more information about a RigLogix subscription, visit
www.riglogix.com
.