Libyan Revolution Caused Hefty Fall to Eni's Production in 2011
by Jon Mainwaring
|
Rigzone Staff
|
Wednesday, February 15, 2012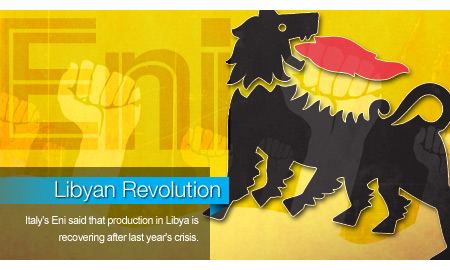 Italy's Eni, the country's main oil producer, saw production suffer a hefty fall last year as a result of disruption caused by the revolution in Libya.
The firm reported Wednesday that its average production of liquids and gas during the fourth quarter of 2011 was down 14.1 percent at 1.68 million barrels of oil per day. Average production was down 12.9 percent at 1.58 Mboepd for the whole year.
Eni said that the reduction was driven by a lowered flow from its activities in Libya, which was affected by the shutdown of almost all the company's plants and facilities, including the GreenStream pipeline, throughout the peak of Libya's internal crisis (which lasted around six months).
Eni reported that an "extraordinary effort" made late in the year, to restart production and reopen the GreenStream pipeline, enabled it to bring back online an average Libyan output of 160,000 boepd during 4Q 2011, compared with 50,000 boepd in the previous quarter.
The firm said that 80 percent of its Libyan output is now online after the firm rushed to restart its Libyan operations in order to try and reduce the impact of last year's revolution on its results. Production at Eni's Libyan sites is currently flowing at approximately 240,000 boepd and the firm plans to achieve the pre-crisis production plateau of 280,000 boepd and full ramp-up by the second half of this year.
Eni reported an adjusted operating profit of $23.5 billion (EUR 18 billion) for the whole of 2011, which was an increase of four percent on 2010. For the final quarter of the year its operating profit was $5.6 billion (EUR 4.3 billion), down 10 percent on 4Q 2010.
Eni added that it expects 2012 to be a challenging year due to continuing signs of an economic slowdown, particularly in the eurozone, and volatile market conditions.
But in spite of this, Eni expects international oil prices to be supported by robust demand growth from China and other emerging economies, partly offset by a recovery in Libyan output. The firm also expects gas demand to be soft due to slow economic activity and increasing competition from renewables.
Generated by readers, the comments included herein do not reflect the views and opinions of Rigzone. All comments are subject to editorial review. Off-topic, inappropriate or insulting comments will be removed.
RELATED COMPANIES