The Great Crew Change Meets Eco-Drilling: Disappearing Roads
|
Wednesday, February 15, 2012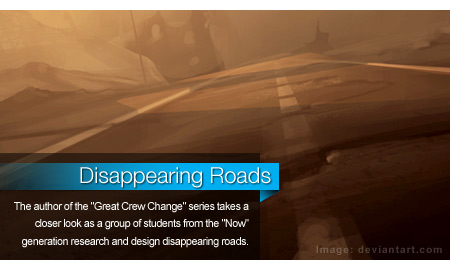 Picture two groups of civil engineering students in a friendly-but-earthly-serious competition.

One group was way down in the deep-central south, at Texas A&M University, while the others were at the more northerly-western University of Wyoming.
Aside from their majors in civil engineering, what united these students?
For one, they all grew up "green," or ecologically attuned – a common ground of the "Generation Now" currently being educated, hired and trained to replace sixty-somethings now retiring, a trend underway known as the Great Crew Change.
Two, the students worked on fun, grant-funded projects to research, then design, low-impact "disappearing roads" for the oil and natural gas patch.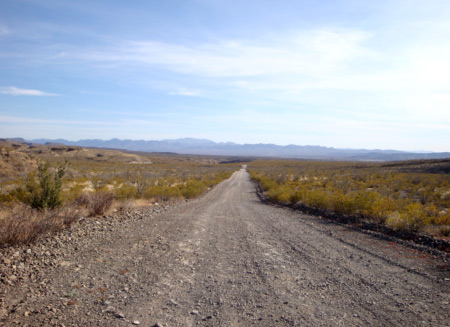 Disappearing road near Pecos, New Mexico
Source: Research Partnership to Secure Energy for America (RPSEA)
What's a disappearing road? In simplest terms, it's an access road to an oil or gas rig (or platform) that literally goes back to the earth, safely, when the petro-operations are done, sometimes, while other disappearing roads are as sturdy for heavy traffic as they need to be - but roll up like a magic carpet when the time comes.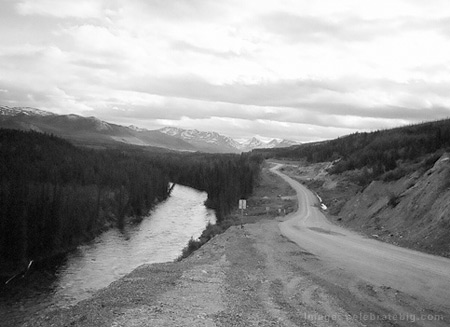 Actually, early technology behind disappearing roads dates back to the 1960s and 1970s in the fragile Arctic tundra of Alaska's North Slope - where an eco-friendly approach was essential to getting access roads in place after the major Prudhoe Bay find in 1969 - and others since.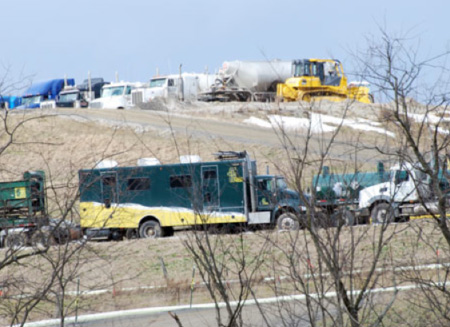 Source: www.MarcellusShale.us
Today's student-led challenges were to find, among other things, 21st century materials and construction techniques which will update ecologically-friendly disappearing roads technology by some 43 years -- to make it happen on a prototype-to-larger scale in today's Go Green, but very budget-conscious, and ever-changing petro-world... where "we" in many nations around the world have only in recent years learned how vast reserves of cleaner-burning natural gas trapped in shale rock far beneath the ground, can be tapped economically... if at present, controversially, via hydraulic fracturing.

Source: Texas A&M Biographical Material
"We put the first program together in 2008. It takes about two years to get funding going, but we've had two different events. The first year, the winning team was from the University of Wyoming. This is a competition, nationwide, and we try to get it going internationally. All I did was engage the engineering sector into looking into ways to produce the land footprint of oil and gas operations - and that way, the civil engineering students get to learn about oil and gas and a little environmental science." - David Burnett, Disappearing Roads project sponsor, Texas A&M University, College Station, Texas.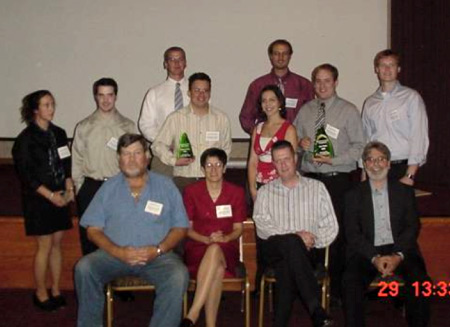 Disappearing Roads 2008: Winning Students and Judges
Source: Texas A&M University newspaper
"I feel like the Disappearing Roads Competition is especially important because we, as a country, are going to be using oil and natural gas for a long time to come and we need to continue to explore ways to make the extraction process as effective and efficient as possible while also minimizing the impact on the environment." - Jacob Olenick (2008 winner from University of Wyoming) The Houston Advanced Research Center (HARC) - Environmentally Friendly Drilling program is currently seeking a third grant to continue this earth-friendly, educational, student-pioneered work in different terrains worldwide.
The author wishes to thank and acknowledge Dr. Richard Haut, senior research scientist, Houston Advanced Research Center (HARC) - Environmentally-Friendly Drilling (EFD) program, The Woodlands, Texas, and David Burnett, director of technology for the Global Petroleum Research Institute and project sponsor, Texas A&M University, Petroleum Engineering Department, College Station, Texas, for the original news tip, interviews, background reading materials, graphics suggestions and enabling this to happen, in general.