Kuwait Replaces Oil Minister with Ex-KPC Head
by Dow Jones Newswires
|
Summer Said
|
Tuesday, February 14, 2012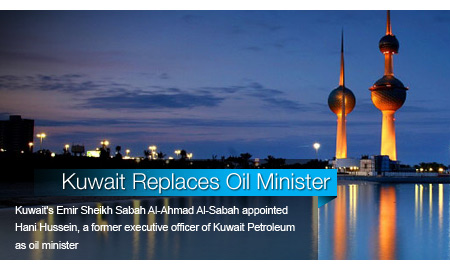 KUWAIT CITY - Kuwait's Emir Sheikh Sabah Al-Ahmad Al-Sabah on Tuesday appointed Hani Hussein, a former chief executive officer of Kuwait Petroleum Corp., or KPC, as oil minister, as part of a wider cabinet reshuffle in the Gulf state.
Hussein replaces Mohammad al-Busairi and the move is effective immediately, according to a decree.
The new minister will start his job when the new cabinet swears in later this week, people familiar with the situation said.
Hussein, who was appointed KPC chief in 2004, decided in early January 2007 to step down and take early retirement amid growing strains, and rising criticism against the oil minister Sheikh Ali al-Jarrah al-Sabah.
Kuwait, a member of the Organization of Petroleum Exporting Countries, frequently reshuffles its cabinet, but replacing oil ministers usually doesn't affect the country's energy policy, which is set by the Supreme Petroleum Council.
"We are unlikely to see any major changes in the country's ministry in terms of policies and decisions, but Hussein has a great reputation from his time at KPC, he is respected by people in the industry, and understands the sector very well," an oil official, who asked not to be named, said.
Kuwait is currently producing about 2.9 million barrels a day of crude oil, a level which it can "sustain without any issue for a long period," an official said Monday.
The Gulf state's capacity currently stands at 3.1 million barrels a day, but experts sometimes question whether pumping at maximum production capacity can be sustained for a long time.
Generated by readers, the comments included herein do not reflect the views and opinions of Rigzone. All comments are subject to editorial review. Off-topic, inappropriate or insulting comments will be removed.
RELATED COMPANIES