Anne-Grete Ellingsen: Elf's First Female Engineer
by Jaime Kammerzell
|
Rigzone Contributor
|
Tuesday, February 14, 2012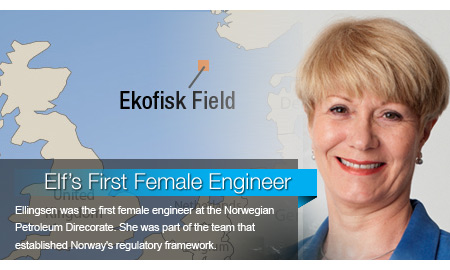 The Ekofisk discovery in 1969 off Norway in the Norwegian North Sea launched Norway into the oil and gas game. Production started on June 15, 1971, and many more discoveries followed. Norway was in need of qualified oil and gas workers and Anne-Grete Ellingsen was eager to help.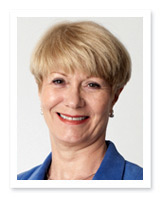 Ellingsen graduated from university in 1975 with a degree in chemistry. She had spent many summers working in chemistry related jobs, but found it boring. Ellingsen had heard that the oil and gas industry needed a lot of people who had experience. She decided to go back to school for one year to gain the required experience for the petroleum industry.
"It was an exciting opportunity for me," Ellingsen said. "It became quite popular to hire females into male areas like industry jobs due to lack of qualified labor in the 70s. I thought it was exciting to work in a new field with people of different nationalities."
Ellingsen was the first female engineer at the Norwegian Petroleum Direcorate. She was part of the team that established Norway's regulatory framework.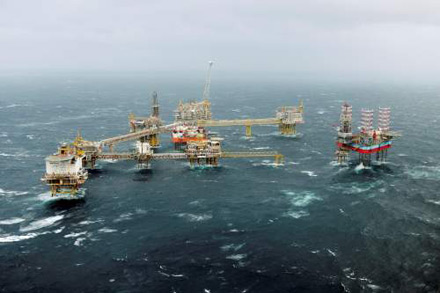 "Most of guys thought I'd be carrying their papers into a meeting," Ellingsen said. "But I found my specialized field and started reading everything about flaring and heat radiation and the impact on steel structures in the harsh North Sea environment. And I became quite an expert."
Ellingsen worked for the NPD for four years before moving on to Elf Aquitaine (now a part of Total) in 1980.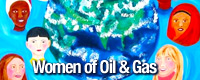 Read More ...
---
O&G Jobs
As the first Platform and Offshore Installation Manager (OIM) in the North Sea, Ellingsen worked on the Frigg field located in the Norwegian and English sector of the North Sea. She also worked in France on the Lacq field, which used to be one of the largest onshore gas fields in Europe at the time.
Ellingsen was in charge of drilling and workovers at Lacq until 1982 when she went offshore to the Frigg field in the North Sea. After two years there, she became the construction and commission manager on the Heimdal field, which was under construction. Ellingsen said that this project was one of her greatest achievements.
"We had 35 different nationalities working on the platform and we managed to complete it on schedule and within budget. It was hard work. I stayed for a year. As a manager I was on call 24 hours on with 2 weeks offshore. At the time we had 2 weeks off."
When Ellingsen became pregnant with her first child, she took a job onshore where she was in charge of purchasing and negotiations with contractors to build the North East Frigg field, which was the first subsea field in the Norwegian North Sea.
When Ellingsen returned to Elf after her 4 ½ month maternity leave, she was passed over for a promotion that was given to a Statoil trainee.
"I was furious," Ellingsen said. "I left Elf because they did not appreciate my competence and were not willing to give me backup assistance after I came back from having my first child. I went to work for Aker. I think that's one of the patterns you'll see from women in those days. You moved sideways instead of up when you had reached a certain management level."
At Aker, Ellingsen had more responsibility in her job. From there she went to work for Statoil where she was in charge of the downstream distribution network. During her period in Statoil, she was appointed deputy minister for the Oil and Energy Ministry of Norway.
"This was a period when we increased the completion in the utility sector of Norway. It was a very interesting period and we see EU now working very much along the same lines as we did in the 90s," Ellingsen said.
Today, Ellingsen works in the renewable energy industry. At the moment, she is CEO and in charge of the first offshore wind park concession in the Norwegian waters.
"The energy industry is exciting due to the environmental challenges we are facing. It is international and there's lots of new technology coming into play. It is also highly linked to politics, which makes in an interesting place to work," Ellingsen said.
Ellingsen tries to inspire her own daughter and girls she mentors to enter the energy industry. Though she acknowledges that mostly men sit on company boards and hold the highest positions within oil and gas and energy companies, she believes that a woman can make what she wants out of her career.
However, "women seem to be less interested in career, which is surprising to me," Ellingsen said. "It is a mix really. More women are at the top now than there used to be, but there is still not that many."
Ellingsen said that there is a greater focus on mentoring women in their careers today than there was 20 years ago. She said management "used to send women to courses to learn to be managers and that would annoy me, as if we were less qualified than men. I believe it is more important to teach both men and women how to work together and how to understand one another, because there are differences between the sexes and managers need to be aware of that."
As for Ellingsen, expect her to find more time for herself in the future while serving on corporate boards and possibly getting more involved in politics again.
Generated by readers, the comments included herein do not reflect the views and opinions of Rigzone. All comments are subject to editorial review. Off-topic, inappropriate or insulting comments will be removed.
RELATED COMPANIES