January A Good Month for Offshore Utilization & Day Rates
by Trey Cowan
|
Rigzone Staff
|
Monday, February 13, 2012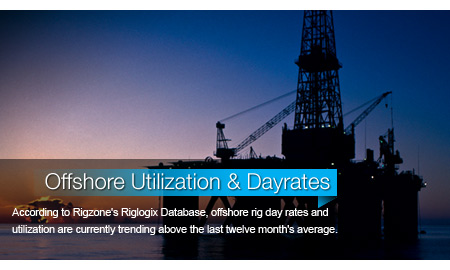 Over the past twelve months the worldwide utilization for all mobile offshore drilling units has averaged 72 percent. In the first month of 2012 the utilization rate was a tad higher at nearly 73 percent. Of the three types of offshore drilling rigs (i.e. jackups, semisubs, and drillships), the drillship fleet was the strongest averaging 78.5 percent utilization over the past twelve months. Semisubs are not far off the pace of drillships and averaged 77.7 percent over the last year. Jackups recently crossed over the 70 percent threshold, but for the year averaged 68 percent.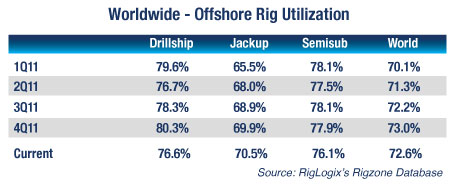 Average day rates around the globe have held close to +/- $230k/day over the past year. For all three rig types, the most recent month's average was greater than its annual average. The trailing twelve month averages were $430k/day, $107k/day, and $361k/day for drillships, jackups, and semisubs, respectively. The most recent month's averages, for all three, were approximately $1,000 per day higher than the last twelve month's averages. As a few regions are starting to see some tightness with more tenders anticipated, stable--if not higher--leading edge day rates are anticipated on the near horizon.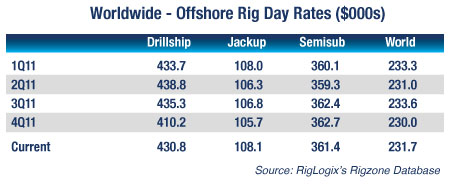 Looking specifically at the rig fleet in Brazil, the number of drillships actively drilling has held steady in the mid-teens. However, the total fleet size is growing as new deliveries are being phased into the fleet but not yet drilling (i.e. undergoing sea trials and inspections). Thus, utilization has dipped but will rebound once these newly built drillships are placed on their first contracted projects during 2012. With 55 rigs under contract, semisubs comprise the bulk of the rig fleet drilling in Brazilian waters. Utilization for semisubs recently averaged an impressive 98 percent. Jackup utilization in the region--at 75 percent--is better than the rest of the world's average. All in all, Brazil has one of the healthiest markets for offshore rigs and remains a focus area for growth that will likely outpace much of the world for the next five to ten years.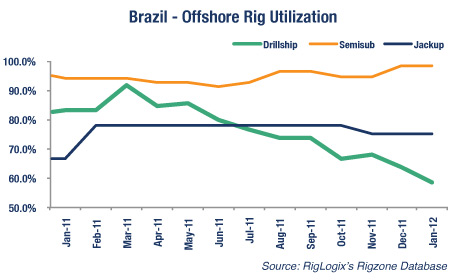 Generated by readers, the comments included herein do not reflect the views and opinions of Rigzone. All comments are subject to editorial review. Off-topic, inappropriate or insulting comments will be removed.