Chesapeake Targets $10-$12B from Asset Monetizations this Year
by Dow Jones Newswires
|
Ben Lefebvre
|
Monday, February 13, 2012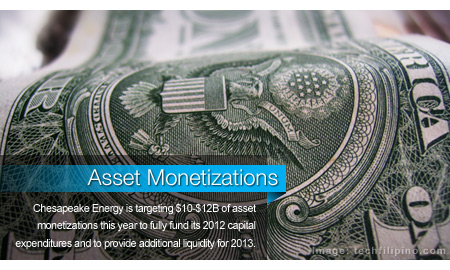 HOUSTON - Chesapeake Energy Corp. said Monday it may completely sell its assets in the Permian Basin, one of the most prolific oil-and-gas fields in the U.S., as part of its plan to fully fund capital expenditures this year.
Chesapeake, the second-largest U.S. natural-gas producer after Exxon Mobil Corp., announced the possible sale of what is considered prime oil- and gas-production fields in the Permian, located in Texas and New Mexico, after receiving investor pressure to bring under control the $10.3 billion in long-term liabilities it reported last month. Chesapeake plans to bring its total debt to $9.5 billion by the end of this year.
Chesapeake is targeting $10 billion to $12 billion of asset sales this year to fully fund its 2012 capital expenditures and to provide additional liquidity for 2013. The company last summer said it expected capital expenditures this year to be between $6 billion and $6.5 billion.
The oil and natural-gas producer revealed the debt-reduction effort in January 2011 after activist investor Carl Icahn disclosed a stake in the company and said he had held discussions with management on increasing shareholder value. Icahn sold his stake last year.
Chesapeake said today it would consider a 100% sale of its 1.5 million net acres of leases in the Permian if the company "receives a compelling offer."
The Oklahoma City-based natural-gas producer had until lately been focusing on seeking a partner to operate the Permian Basin land as a joint venture. An outright sale of Chesapeake's Permian acreage could generate $10 billion in itself, said Niel Dingmann, analyst at Sun Trust.
Chesapeake, like other independent natural-gas producers, has seen its cash flow pinched by a glut in the gas market, which has resulted in the lowest prices for the commodity in over a decade. Chesapeake said in January that it was cutting back on natural-gas-directed drilling in an effort to spearhead a reduction in the output that is contributing to the oversupply.
By considering putting the entire Permian play up for sale, Chesapeake may be acknowledging an overriding need for cash, Simmons & Co. analyst Bill Herbert wrote in a research note. "Selling oily Permian outright also shows stress as we believe it is likely an attractive asset," Herbert said.
Chesapeake's Permian Basin acreage represents 5% of the company's net reserves and production. Chesapeake last reported 17.1 trillion cubic feet equivalent net proved reserves and total production of 3.6 billion cubic feet equivalent per day of oil and gas. Chesapeake said its acreage is one of the six largest in the Permian.
Chesapeake is also seeking a joint-venture deal for its 1.8 million acres in the Mississippi Lime, which is a field in Kansas and northern Oklahoma that produces mostly oil from limestone formations. The company estimates that entering joint ventures in the Permian and Mississippi Lime plays could fetch up to $8 billion.
Chesapeake also said Monday it would make a $1 billion public offering of senior notes due March 2019.
Chesapeake reported last month it slashed its long-term debt by just over $2 billion over the past year and expected to meet its 25% two-year debt-reduction goal by the end of this year, regardless of natural-gas prices.
Generated by readers, the comments included herein do not reflect the views and opinions of Rigzone. All comments are subject to editorial review. Off-topic, inappropriate or insulting comments will be removed.
RELATED COMPANIES