Community College Training Programs Around the Country
|
Monday, February 13, 2012
Oil and gas training programs at other community colleges in the U.S. also have been launched in recent years, particularly technical field jobs and in regions such as the Marcellus shale area in Pennsylvania, where shale activity has skyrocketed in recent years.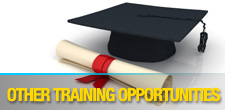 In North Texas, the home of the Barnett shale play that triggered the boom in U.S. shale gas exploration, North Central Texas College offers an oil & gas production technology program. The program, developed in partnership with the industry, offers a one-year certification program and a two-year degree program.
In Pennsylvania – home to the Marcellus shale play – Westmoreland County Community College's board of directors on Jan. 25 approved the establishment of the Natural Gas and Oil Technology program. The program will prepare graduates for entry level jobs in the natural gas and oil industry.
An estimated 18,500 to 30,000 jobs will be created in the natural gas industry, according to the 2011 Pennsylvania Statewide Marcellus Shale Workforce Needs Assessment, as drilling continues to increase through 2014.
Westmoreland County Community College, Pennsylvania College of Technology, West Virginia Northern Community College, Eastern Gateway Community College in Ohio, and Broome Community in New York have banded together to form the coalition Marcellus ShaleNET, a comprehensive recruitment, training, placement and retention program for jobs within the gas drilling and production industry.
According to the ShaleNET website, a single well drilled will require 400 people working in nearly 150 occupations. Forty-seven percent of the jobs involved in drilling a well do not require a four-year degree – 20 percent of the jobs fall under the general labor category; 17 percent are heavy equipment operators, 10 percent are jobs on and off-road trucking jobs that require a commercial driver's license.
Generated by readers, the comments included herein do not reflect the views and opinions of Rigzone. All comments are subject to editorial review. Off-topic, inappropriate or insulting comments will be removed.