Community College Offers Fast-Track for O&G Careers
|
Monday, February 13, 2012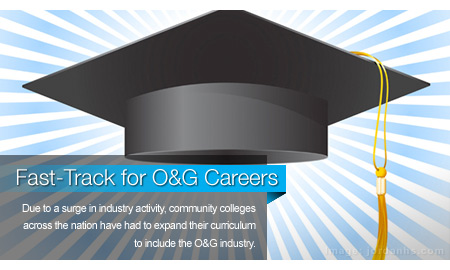 The surge in the oil and gas industry activity has created demand for a wide array of jobs, ranging from professionals such as geologists and engineers to skilled blue-collar jobs, including technicians, welders and electricians.
To meet the surge in local demand for skilled technical workers, Houston-based community college system Lone Star College has expanded its curriculum to include the oil and gas industry.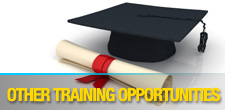 Last year, the college established its Energy and Manufacturing Institute to offer training for jobs in the oil and gas industry. Through this institute, students are taught a combination of skills to prepare them for careers in petroleum field services and automated manufacturing.
The institute offers two pre-apprenticeship certification programs that last six weeks – an engineering technician program and machining program. A machinist fabricates all the parts that go on a rig or subsea valve, while the engineering technicians put everything together and keep things running.
Lone Star last year offered 60 slots through a state-funded grant for its engineering technician assistant pre-apprenticeship program. Due to an overwhelming demand, all slots for the grant program have been filled at this point. While the machining program does have a tuition cost, students can apply for financial aid through their local Workforce Solutions Center.
Through these newest set of programs, students can be trained to work on a land or subsea rig or in a manufacturing assembling company.
Students who participate in these programs can do an internship or pre-apprenticeship with an oil and gas company as they are participating in these programs, or after they complete the program, to gain on-the-job training. Once they complete the pre-apprenticeship programs, they can either move into a more in-depth program at Lone Star College System or transition into the workforce.
"We're trying to help companies find workers with fast entry-level type programs to meet demand," said David Lenzi, director of energy & manufacturing for Lone Star College System.
Lenzi sees the college's programs as a way to fill demand for skilled blue collar jobs, such as machinists, as the number of oil service and manufacturing companies open facilities, particularly in the I-10, Highway 249 and Beltway 8 area. According to Lone Star, a 14 percent increase in engineering technology careers will take place in Texas between 2008 and 2018.

The college has been in discussions with companies considering a move to the city, informing them of the educational opportunities that exist here. Lone Star officials also have been seeking to further relationships with oil and gas companies to partner with the college on training opportunities, such as a simulation rig on which students can train in a real-world setting. The location of this simulation rig has not yet been determined.
Beyond these two fast-track programs, students can go on to earn other certifications for energy-related careers, including engineering technician, machine shop assistant, machine tool operator and welders, associate's degrees and bachelor degrees through Lone Star's university partners, which include the University of Houston and Sam Houston State University.
Starting March 1, the college in partnership with PetroEd will offer a pre-certification training program for oil and gas that's geared towards accountants, sales managers and technical/business professionals who are new to the energy industry, investors and financial professionals seeking to understand oil and gas and all levels of petroleum industry support staff.
This course will teach the basics of upstream and downstream oil and gas, from how oil deposits are formed to how oil and gas are converted into products for the downstream energy industry.
Lone Star also offers customized corporate training and professional development seminars for current oil and gas workers.
Last month, the college opened a new facility, Lone Star College-University Park, at the Hewlett-Packard campus off Highway 249. The new facility, which includes 1.6 million square feet of space acquired from HP, consists of several buildings where oil and gas related training is held.
Lone Star is inviting oil and gas related companies to rent space in the building and share the lab. One oil and gas company is at the site already, and has dedicated space on an entire floor of one of the buildings at the new facility.
Officials are also seeing a diverse array of students enrolling in its oil and gas programs, from recent high school graduates to veterans to unemployed and underemployed mid-career workers seeking transition to a new career.
Lone Star College is seeking corporate partners to add support to its oil and gas training programs and instructors for its credit and non-credit course and corporate training programs geared towards oil and gas. The college is in need of instructors with engineering, geology and technical backgrounds, such as welding and machining, to fill several positions available.
"We're looking for retirees from the oil and gas industry, people with experience who want to help give back to the next generation," said Lenzi, noting that it's difficult to hire individuals still working in oil and gas due to the higher salaries.
21st Century Trends for Apprenticeships
Additionally, the school has been working with other technical and community colleges around the country to expand apprenticeship opportunities for students. Lone Star, along with Midlands Technical College in Columbia, S.C., Three Rivers Community College in Norwich, Conn.; and Polk State College in Winter Haven, Fla., co-authored a white paper on the benefits of apprenticeships in the U.S., 21st Century Apprenticeship Models: A National Council for Continuing Education and Training.
While apprenticeships typically were handled through traditional academic departments, apprenticeships today are originating from community colleges, continuing education programs and corporate training departments.
"Rapid changes in our industrial system require a large body of skilled workers who are able to carry out technical specifications and who can supervise less skilled members of the workforce," officials from the school noted in the paper.
Apprenticeship programs such as the programs offered at Lone Star can provide workers seeing to transition to new careers, who are unemployed or left school early.
"At a time when America is experiencing a shortage of skilled workers, apprenticeships provide a structured approach to fill the high tech, middle-skill jobs required to boost the nation's economy," according to Linda Head, associate vice chancellor for workforce development at Lone Star.
However, a number of issues must be addressed to promote more training through apprenticeships in the U.S. The long shifts that employees typically work can interfere with time needed to accomplish theory work, making online courses and hybrid courses of theory and hands-on work more important than before.
The fact that employees are coming into the workforce with fewer technical skills – and that apprenticeships today are two years or less versus longer apprenticeships in the past – also must be taken into consideration, Head noted.
Generated by readers, the comments included herein do not reflect the views and opinions of Rigzone. All comments are subject to editorial review. Off-topic, inappropriate or insulting comments will be removed.