Group Taken Aback by Marcellus Legislation Impact Fees
by Karen Boman
|
Rigzone Staff
|
Friday, February 10, 2012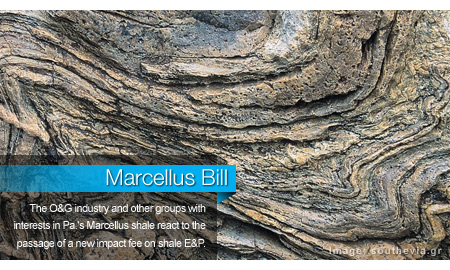 Members of the Associated Petroleum Industries of PA are still examining how the local impact fee will affect their operations and creation of associated jobs, said Stephanie Catarino Wissman, the organization's executive director.
Wissman told Rigzone.com on Friday that the organization was not surprised by the bill's environmental safeguards, most of which were based on recommendations made by the Marcellus Shale Advisory Commission last year.
However, "We were taken aback with the fees in the legislative package that was passed," said Wissman. "We didn't expect the numbers to be that high."
She noted that the bill passed was not an industry giveaway, as some critics have said.
Former Pennsylvania Gov. Ed Rendell had proposed a severance tax on oil and gas, which API opposed.
"We said if you're going to do something, we would prefer a local impact fee so that it would go directly to the communities being affected" by shale drilling, Wissman said.
The Marcellus shale bill passed by the Pennsylvania General Assembly this week will provide greater certainty for oil and gas operators working across Pennsylvania, but will raise costs in terms of time and resources, said Marcellus Shale Coalition President Kathryn Z. Klaber on Thursday.
In the organization's official statement on the Marcellus shale legislation, Klaber pointed out though that the higher costs and increase in time and resources comes while natural gas prices are at an historic low.
Klaber commented that HB 1950 takes a balanced approach to further strengthening Pennsylvania's forward-leaning health, environmental and safety regulations, and incorporates many of the recommendations of the Marcellus Shale Advisory Commission.
While not perfect, HB 1950 builds upon and further strengthens the collaborative efforts undertaken over the past several years, "ensuring that Pennsylvania has industry-leading, world-class shale gas regulations on its books," Klaber noted.
The Pennsylvania House of Representatives passed the bill on Feb. 8 with a vote of 101-90; the state's Senate passed the bill Feb. 7 with a 31-19 vote. Under the bill – the product of several years of debate -- Pennsylvania county governments would be able to impose a fee on each unconventional gas well spud in that county. The fee would be due by April 1 of each year beginning in 2013, according to the impact fee final conference report.
The fee will be based upon the year of the well and average natural gas price. For example, a well in its first year would have a fee of $40,000 with a gas price of $2.25/Mcf or less. The fee would rise with higher gas prices, and range up to $60,000 during a well's first year if gas prices are $6 or higher. The fee would decline annually throughout a well's life cycle.
The fee would be suspended if a well does not produce gas in quantities greater than those of a stripper well in three years. Gas wells spud before 2011 shale be considered to have been spud in 2011 for purposes of imposing a fee.
Fees collected would fund state and local government efforts to mitigate the impact of Marcellus shale drilling.
Pennsylvania's House Republican Caucus has called the legislation a fair bill that balances the needs of taxpayers, business and the environment. The bill allows Pennsylvania counties to impose an impact fee on Marcellus shale gas wells in their communities to help mitigate local impacts of drilling, according to the group's website.
The Pennsylvania State Association of Township Supervisors (PSATS), Chesapeake Bay Foundation, County Commissioners Association of Pennsylvania, Pennsylvania Association of Boroughs and Renew Growing Greener Coalition also came out in support of the legislation.
In its 2011-2012 policy statement, PSATS said it was supportive of the economic development opportunity that Marcellus shale brings "provided that drilling activities are conducted in an environmentally responsible manner and that the impacts on the community and the environment are mitigated to the least extent possible."
Because of the impact on township roads, PSATS supports legislation to require gas companies to notify the host municipality 30 days before the start of construction or drilling on a permitted site.
Critics of the bill include State Rep. Mike Hanna, who called the bill a sham and nothing more than a sweetheart deal for the multi-billion dollar oil and gas industry.
"It swindles Pennsylvania's taxpayers and fails to make huge out-of-state corporations pay their fair share," Hanna commented. "At a ridiculous almost 1 percent effective tax rate, this fee would be among the lowest of any natural gas-producing state in the nation.
"Under this unreasonable fee, huge oil and gas companies will pay less than half the 3.07 percent that working Pennsylvanians pay in their state Personal Income Tax. That is unacceptable," Hanna noted.
The Pennsylvania Budget and Policy Center on Jan. 31 reported in a press release that legislative inaction on a natural gas drilling tax has cost Pennsylvania $300 million in lost revenue.
State cuts announced in January to services ranging from help for victims of domestic violence to hospital trauma centers to pre-kindergarten could have been avoided if the Legislature had enacted a drilling tax, the Harrisburg, Penn.-based group said in a statement.
"Drillers continue to get a free pass in Pennsylvania, while teachers work without pay, and victims of domestic violence are turned away from shelters," said Sharon Ward, director of the group.
The Pennsylvania Budget and Policy Center noted that Pennsylvania is the largest mineral-rich state in the U.S. that does not have a drilling tax or fee of any kind.

Generated by readers, the comments included herein do not reflect the views and opinions of Rigzone. All comments are subject to editorial review. Off-topic, inappropriate or insulting comments will be removed.