IEA Sees Slowdown In Oil Product Demand Growth Continuing
by Dow Jones Newswires
|
James Herron
|
Friday, February 10, 2012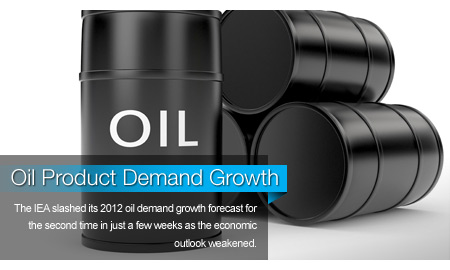 LONDON - The International Energy Agency Friday slashed its 2012 oil demand growth forecast for the second time in just a few weeks as the economic outlook weakened, just as oil production from the Organization of Petroleum Exporting Countries reached its highest level since October 2008.
The IEA has cut half a million barrels a day from its 2012 oil demand growth forecast since the start of this year, a change that it said leaves the oil market with enough flexibility to adjust to any loss of Iranian crude exports due to sanctions that will take effect in July.
This shows that basic oil supply and demand figures do not support prices at their current level of around $118 a barrel for Brent crude, said analysts at Bernstein Research in a note to clients.
Despite this, the IEA, which represents the interests of major energy consuming rich countries, said the perception of the risk of a supply disruption in Iran or other trouble spots like Sudan is preventing stubbornly high oil prices from falling.
"The big hit to demand numbers for 2012 is Europe's significantly weaker economic picture," said David Fyfe, the head of the IEA's oil markets division in an interview with Dow Jones Newswires. Demand in North America isn't quite as weak as expected, but still pretty muted, he added.
The IEA said in its monthly market report that it expects oil demand to grow by 0.8 million barrels a day to 89.9 million barrels a day in 2012. This is 0.3 million barrels a day lower than its January forecast, a cut that was widely expected after the International Monetary Fund reduced its global economic growth forecasts to 3.3% from 4.0% last month.
Asia is the source of almost all oil demand growth in 2012, although the picture there is mixed. The IEA trimmed its forecast for China as economic growth slowed and oil demand came to "near stagnation" in December. However, there is the possibility that China could decide to add to its strategic petroleum reserve this year, which could boost its demand by 200,000 barrels a day of oil, Fyfe said.
Japan's oil demand is growing rapidly, up 9.5% year-on-year in December, as it uses fossil fuels to fill the gap left by post-tsunami shutdowns in its nuclear industry.
As demand weakens oil supply looks more comfortable. The IEA estimated that OPEC produced 30.9 million barrels a day of crude oil in January, its highest level since October 2008 and 1 million barrels a day above the amount of crude the world needs from the group in 2012.
"The market looks reasonably well supplied for 2012," and should be able to handle without too much trouble the European Union embargo on 600,000 barrels a day of Iranian oil imports that will come into force in July, said Fyfe.
Members of OPEC agreed in December to reduce their collective to output to 30 million barrels a day for 2012, but the group's main swing suppliers, Saudi Arabia, Kuwait and the United Arab Emirates, did not reduce output in January to make way for growing Libyan production, the IEA said.
Generated by readers, the comments included herein do not reflect the views and opinions of Rigzone. All comments are subject to editorial review. Off-topic, inappropriate or insulting comments will be removed.
RELATED COMPANIES