GTL Unit Could Become 'Project Enabler'
by Matthew V. Veazey
|
Rigzone Staff
|
Thursday, February 09, 2012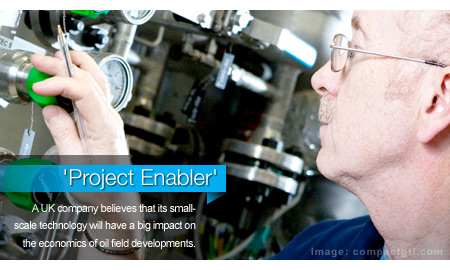 A UK company believes that its small-scale technology will have a big impact on how E&P companies view the economics of oil field developments.
"The key economic benefits are simple," said Simon Saul, Business Development Manager with CompactGTL. "The technology enables oilfield development where otherwise it would not be possible."
Saul's company has developed a small, modular gas-to-liquids (GTL) system that converts associated natural gas into synthetic crude oil (syncrude). The technology, which shares its trade name with that of the company, features both stages of the GTL process. First, the unit feeds associated gas through a steam methane reformer to produce synthetic natural gas (syngas). Next, the syngas runs through a Fischer-Tropsch (FT) reactor that converts the feedstock into synthetic crude oil, water and a "tail gas" comprising hydrogen, carbon monoxide and light hydrocarbon gases.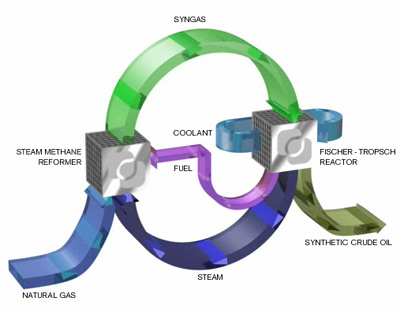 "The technology effectively provides a disposal route for problematic associated gas that has no value to the operator and may even have a negative value in some scenarios," explained Saul. "Importantly, because the gas is converted to syncrude the solution also provides for an immediate increase in project net present value (NPV) because the gas can now be booked as liquid reserves."
CompactGTL estimates the unit could produce as much as 5,000 barrels of syncrude per day from associated gas. Moreover, the company contends the elimination of flaring would yield a direct positive impact on a development's environmental footprint. Also, Saul points out the technology could serve as an antidote to stricter governmental regulations.
"For currently producing oilfields where regulatory changes such as introduction of flaring constraints are limiting production, it gives the operator a solution that can yield additional commercial benefits," added Saul.
Progressing Toward Deployment
A major oil producer with a strong track record of operating in remote locations has taken note of the technology. Petrobras' CENPES Research and Development Center recently successfully concluded a three-year qualification test program of the technology. Because the technology has obtained CENPES' blessing, Petrobras now has the go-ahead to deploy the GTL system within its operations.
"Petrobras always had an interest in GTL technology due to the nature of their oilfield developments off the coast of Brazil," recalled Saul. "As a result they conducted a survey of the technologies and companies available in the marketplace and concluded that CompactGTL technology was the best-suited to meet their future objectives."
Saul noted that Petrobras sought to make two conclusions through its testing program. "In the first instance, the requirement was to prove the feasibility through testing of a large scale, commercial demonstration plant," he recalled.
"Secondly, the program required full demonstration of the capability of the CompactGTL supply chain to manufacture, deliver, install and commission on time a commercial unit that would deliver on the first objective," Saul continued.
Compact GTL, which has received private equity funding from Coller Capital, maintains it is the only developer of a small-scale GTL system that has undergone this level of evaluation by industry.
Because CENPES determined the plant can be robust and exhibit the operational availability expected of large-scale commercial facilities, CompactGTL plans to work with clients worldwide to develop commercial-scale modular GTL plants. Petrobras was the first major E&P company to evaluate CompactGTL, but others are following suit.
"We have commenced conceptual, feasibility and pre-feed studies in conjunction with other clients in Russia, Latin America, Africa and Asia for onshore and offshore plants ranging from 2-50 MMscfd (200-5,000 bbls/d syncrude)," said Saul, who added that CompactGTL owns all of the intellectual property for the technology outright. "Information concerning time lines on deployment is sensitive and subject to client confidentiality agreements."
A Different GTL Focus
GTL is certainly not a new concept. Shell and Qatar Petroleum (QP) have built the Pearl GTL facility in Qatar. The plant, which happens to be the world's largest GTL facility, can produce 120,000 barrels of oil equivalent per day of natural gas liquids and ethane. Shell also has confirmed that it is exploring possible GTL projects in the U.S.
Another company that has been a leader in advancing GTL projects is Sasol. The South African company, in a joint venture with QP, has built the ORYX GTL facility in Qatar. In addition, Sasol and Petronas are collaborating with Uzbekneftegaz to build a GTL plant in Uzbekistan. In North America, Sasol is considering building a GTL facility in Lake Charles, La. Also, Chevron and Nigerian National Petroleum Corp. have been collaborating on the Escravos GTL project to mitigate flaring in Nigeria.
What the above GTL projects have in common is that they are designed to monetize natural gas resources by producing high-end petroleum distillate products and directly marketing them to fuel retailers, refineries and petrochemical complexes. Moreover, conventional GTL plants are large industrial facilities. CompactGTL is trying to carve out a niche for itself to meet a separate industry need that conventional GTL installations cannot satisfy.
"World-scale GTL technology is long established on a commercial footing," said Saul. "However, the current plant design and economic basis is severely limited and impossible to replicate where gas volumes are small, in offshore environments and in remote locations. This is where the modular CompactGTL solution comes into its own, being flexible enough to deploy in these challenging environments but also economically robust when subjected to oilfield development economic appraisal."
"It is a solution that enables the development of oilfields that may not otherwise be economically viable due to the presence of problematic associated gas," continued Saul. "In this perspective it is radically different from conventional GTL technology which seeks to derive economies of scale from the exploitation of natural gas reserves and then adds value."
Saul explained that the modular design of the GTL units is key to complementing the typical production of an oilfield and providing the necessary adaptability for remote and offshore environments.
"This is one aspect that differentiates CompactGTL in the marketplace," said Saul. "Over time, the associated gas production will decline along with the oil production. The modular nature of the CompactGTL plant gives the flexibility to scale down the reactor modules in response to the production decline."
"The CompactGTL modular gas solution is a project enabler," concluded Saul.
Generated by readers, the comments included herein do not reflect the views and opinions of Rigzone. All comments are subject to editorial review. Off-topic, inappropriate or insulting comments will be removed.