Pennsylvania Assembly Passes Marcellus Shale Bill
by Karen Boman
|
Rigzone Staff
|
Thursday, February 09, 2012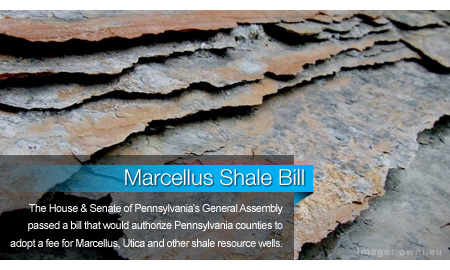 The House and Senate of Pennsylvania's General Assembly on Wednesday passed a bill that would authorize Pennsylvania counties to adopt a fee for Marcellus, Utica and other shale resource wells.
House Bill 1950 includes 24 of the legislative recommendations offered by the Marcellus Shale Advisory Commission, whose work Pennsylvania Gov. Tom Corbett outlined in his Marcellus shale proposal.
Under that proposal, a $40,000 fee per well would be imposed during a well's first year; a $30,000 fee would be required in the second year, then $20,000 in the third year. A $10,000 fee would be imposed for years four through 10. No fee will be assessed if well production drops below 90 Mcf/d.
The fees are payable to the county by March 1 of each year. A county may provide for a fee credit of up to 30 percent for approved investments in natural gas infrastructure, such as gas fueling infrastructure or public transit vehicles.
The proposal calls for 25 percent of revenues from these fees to be allocated to the state, while 75 percent will be retained locally.
Seventy percent of the revenue allocated to the state will be used to fund road and bridge maintenance and repair and other infrastructure improvements within counties where unconventional gas development is taking place.
The breakdown of revenue distributed to the state includes:
10.5 percent to the Department of Environmental Protection's restricted account for the plugging of abandoned and orphaned oil and gas legacy wells and the administration and enforcement of oil and gas program and other permits related to gas development
7.5 percent to the Public Utility Commission for enhancement, inspection and enforcement of pipeline standards
3.75 percent to the Department of Health for investigating health complaints associated with shale development and conducting health, public outreach and education
3.75 for developing and sustaining training programs for first responders and acquiring emergency response equipment
4.5 percent for emergency response planning, training and coordination associated with shale gas development
Corbett had previously said his proposal would help create thousands of jobs for state residents, enhance protection of Pennsylvania's natural resources and move the state towards energy independence.
"This legislation reaffirms our strong commitment to safe and responsible natural gas development here in Pennsylvania," the governor said in a statement on Wednesday.
Corbett will have 10 days to sign the bill into law once it reaches his desk.
Generated by readers, the comments included herein do not reflect the views and opinions of Rigzone. All comments are subject to editorial review. Off-topic, inappropriate or insulting comments will be removed.