PwC: Shale Activity Drives U.S. M&A Deals in 2011
by Karen Boman
|
Rigzone Staff
|
Wednesday, February 08, 2012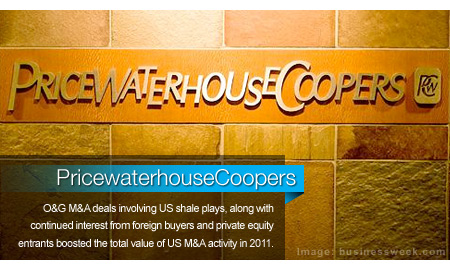 Oil and gas merger and acquisition (M&A) deals involving U.S. shale plays, along with continued interest from foreign buyers and private equity entrants deploying capital in the U.S. energy industry, boosted the total value of U.S. M&A activity in 2011 significantly, according to a recent analysis by PricewaterhouseCoopers (PwC).
Last year, 191 M&A deals with values greater than $50 million, or $186.5 billion in activity, were announced, up from 196 deals, or $138.5 billion, in M&A activity in 2010.
Average deal size grew in 2011 to $977 million, up 38 percent from $706 million in 2010.
Forty-eight deals worth a combined total of $80.5 billion and valued at over $50 million each were announced in the last three months of 2011. This figure represents a 25 percent volume decline but an 89 percent increase in total deal value from the 64 deals valued at $42.6 billion in fourth quarter 2010.
"We expect deal flow to remain active in 2012, despite continuing economic uncertainty, due to attractive commodity prices – which promotes exploration and development as well as upstream M&A activity," said Rick Roberge, principal in PwC's energy M&A practice.
Average, Total Value of Shale M&A Deals Rise
Seventeen shale-related deals valued at a combined $57 billion were seen in fourth quarter 2011, down from the 32 shale-related deals valued at $29.3 billion in the final three months of 2010. However, average deal value in the fourth quarter grew 209 percent to $3.4 billion for shale deals.
Sixty-eight total shale-related deals, with values greater than $50 million, were announced in 2011, down from 85 shale-related deals in 2010. However, the total value of shale deals in 2011 jumped 55 percent to $107 billion from $68.9 billion in 2010.
Weak U.S. natural gas prices, which hit a 10-year low in 2011, resulted in more investment in oil and liquids rich plays in 2011. This shift towards U.S. onshore oil and liquids rich plays has prompted a number of companies, including Chesapeake Energy, to shut in gas production.
Activity in the Marcellus shale remained strong for patient buyers waiting out the supply-demand dynamics of natural gas, said Steve Haffner, a Pittsburgh-based partner with PwC's energy practice.
"Towards the end of last year, we saw many investors looking at the Utica shale as the next area of interest to take advantage of the more liquids-rich resource, and its proximity to major metropolitan areas," said Haffner.
Four transactions in shale-related deals in fourth quarter 2011 involved the Marcellus shale totaling $3.5 billion and three Utica shale deals with a total value of $3.6 billion. For full-year 2011, there were 13 deals in the Marcellus shale worth $9.9 billion,
Haffner noted that companies are now focused on building pipelines and processing facilities near shale plays to transport the extracted oil and gas, which PwC believe will likely be a key driver of M&A activity in 2012.
In some parts of Pennsylvania, not enough demand in local markets exist to absorb the gas being produced, which has prompted interest is finding ways to utilize gas in the U.S. market, including the development of petrochemical plants, Haffner said, who sees the growing use of gas in U.S. petrochemical plants a more likely short-term scenario versus liquefied natural gas exports.
Foreign buyers announced 10 deals in fourth quarter 2011 that had a value greater than $50 million. This was two deals less in comparison to the last three months of 2010, but total deal value in fourth quarter 2011 rose to $13.9 billion from $9.4 billion from the same period in 2010.
Forty transactions by foreign buyers were announced for all of 2011, five less than full year 2010, but total deal value in 2011 jumped 55 percent to $56.4 billion.
"International players invested heavily in U.S. shale plays through joint ventures in 2011 – and we believe a trend to watch out for in 2012 is for foreign buyers to look to acquire entire companies that operate in shale plays so they can take more control of the assets through operatorship," said Roberge.
"We also saw major private equity firms making big bets in the energy industry in 2011, and we expect their activity may accelerate as favorable oil price outlooks provide an attractive investment rationale, Robert commented.
Generated by readers, the comments included herein do not reflect the views and opinions of Rigzone. All comments are subject to editorial review. Off-topic, inappropriate or insulting comments will be removed.