TNK-BP to Boost Arctic Output with $4B Investment Over 3 Years
by Dow Jones Newswires
|
Jacob Gronholt-Pedersen
|
Wednesday, February 08, 2012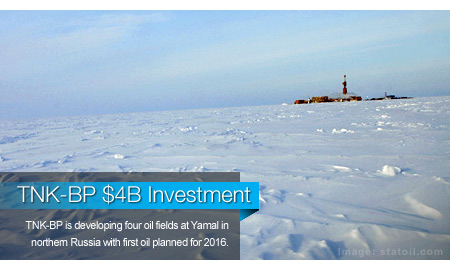 MOSCOW – BP PLC's Russian joint venture TNK-BP Ltd. said Wednesday it plans to invest around $4 billion over the coming three years to develop Arctic oil and gas fields, in a move to offset declining production at Soviet-era fields.
TNK-BP – Russia's third-largest oil producer – is developing four oil fields in Yamal in northern Russia with first oil planned in 2016 and production expected to reach a plateau of 15 million metric tons a year within four or five years, said Tom Quigley, vice president in charge of the Yamal Oil project.
The company will spend close to $2 billion on the four oil fields between 2012 and 2014, with total investments over the next 30 years of development at $12 billion, said Quigley.
The crude can be shipped either to Europe or to Asia, and will "most likely" be transported to Asian markets through the East Siberia-Pacific Ocean pipeline, Quigley said.
TNK-BP is focusing attention on Russia's Yamal region as production declines in its traditional oil producing areas such as Orenburg and West Siberia developed in Soviet times.
By 2021, 27% of overall production will comes from the Yamal region, while the share of hydrocarbons from the Orenburg region in Western Siberia will fall to around 20% from over 50% today, TNK-BP said previously.
TNK-BP is already producing around three billion cubic meters of natural gas a year at its Rospan unit in the Yamal region. The company expects gas output to plateau at 16 billion cubic meters in 2017 and keep at this level for seven years, with total gas production over the next 30 years at 270 billion cubic meters.
Investments in the company's gas production unit in Yamal, Rospan, will be $2 billion in the coming three years, with total investments over the coming 30 years at $6 billion.
The company also said it will invest 145 billion rubles ($4.9 billion) until 2020 to increase production at the Uvat group of fields in East Siberia. Uvat now produces 7 million tons of oil per year.
Generated by readers, the comments included herein do not reflect the views and opinions of Rigzone. All comments are subject to editorial review. Off-topic, inappropriate or insulting comments will be removed.
RELATED COMPANIES