Nabors Former CEO Ends Employment Pact
by Dow Jones Newswires
|
Lauren Pollock
|
Monday, February 06, 2012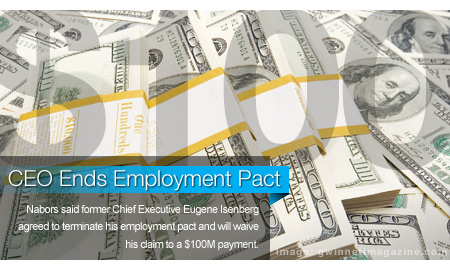 Nabors Industries Ltd. said former Chief Executive Eugene Isenberg agreed to terminate his employment pact and will waive his claim to a $100 million payment that was triggered when Nabors named a new CEO in October.
Isenberg, who had been chairman and chief executive of the oil drilling company since 1987, will continue as chairman through his current term, which ends in June.
In one of the largest executive paydays in recent years, Nabors had said in late October that Isenberg, who was 81 years old at the time, was due $100 million in cash in a severance-style deal under the terms of his employment pact as it promoted his longtime lieutenant, Anthony G. Petrello, to CEO, a payment that spooked investors.
Analysts with Tudor, Pickering, Holt & Co. said that the decision is a "positive signal" for investors and the "right thing to be done."
The clause in Isenberg's contract, which was scaled back in 2009 after shareholders objected to an even-richer exit deal, called for the $100 million payout in the event of his death or disability, or under various termination scenarios, including "constructive termination without cause." That is defined as, among other things, his removal as either CEO or chairman.
By comparison, the highest-paid executive in the U.S. in 2010, according to a Wall Street Journal survey published in May, was Viacom Inc. CEO Philippe P. Dauman, whose compensation was valued at around $84.3 million. Of that, Dauman received $13.9 million in cash; much of the rest came in one-time stock and option awards tied to a contract renewal.
Nabors said Monday that Isenberg will receive no cash compensation in connection with the termination and waives all claims he may have had against the company. He also forfeited about $7 million in his deferred bonus account. Nabors is reviewing its previously announced plans to record a $100 million contingent liability in the fourth quarter.
"I am fortunate to have been very successful in my career, and it has always been my intention to donate this money to charity," Isenberg said. "I ultimately concluded that everyone's interests, including the company's and our shareholders', were best served by this new arrangement."
Instead, upon his death, Isenberg's estate will receive a payment of $6.6 million, plus interest.
Generated by readers, the comments included herein do not reflect the views and opinions of Rigzone. All comments are subject to editorial review. Off-topic, inappropriate or insulting comments will be removed.
RELATED COMPANIES