E&Y: Bakken to Contribute Significantly to 2012 U.S. Production Growth
by Karen Boman
|
Rigzone Staff
|
Thursday, February 02, 2012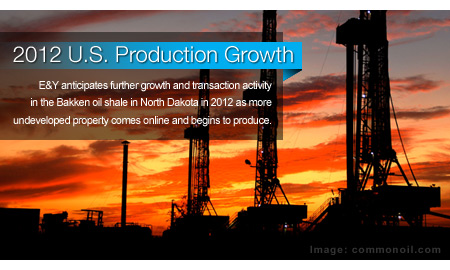 The dramatic rise in Bakken shale production had a notable impact on the market in 2011 and will continue to comprise a significant portion of domestic energy production growth in 2012, according to Ernst & Young's (E&Y) quarterly oil and gas update.
E&Y anticipates further growth and transaction activity in the Bakken shale oil shale in North Dakota in 2012 as more undeveloped property comes online and begins to produce.
"Long thought of as an oil producing region in terminal decline, the combination of strong prices and improving technology has turned the U.S. into a growth area," E&Y said in a statement. "The application of shale gas technology to shale oil resources is largely to thank for a turnaround in U.S. production."
Other key events and trends in 2011 will continue to shape the oil and gas industry in 2012. The U.S. shale gas boom has elevated U.S. gas production to its highest level in nearly 40 years, despite supply and demand imbalance and continued uncertainty around shale production's impact on air, water and geologic formations.
"However, many gas producers are concerned about the current very depressed price environment, and in the near term are hoping for some support from a cold winter," E&Y noted.
While the U.S. energy industry began moving past the 2010 Macondo oil spill and addressing concerns regarding environmental and drilling safety, smaller oil spills that occurred worldwide in 2011 heightened the public's and policymakers' attention on the industry.
Macroeconomic factors worldwide will continue to impact the U.S. energy industry as oil and gas activities become more global in nature, according to an Ernst & Young official.
"At the same time, changes in domestic energy supply and demand require careful monitoring and response in order to seize opportunities and manage risk at home," said Marcela Donadio, Americas Oil & Gas Leader for Ernst & Young.
"This is the year to expect the unexpected," Donadio noted.
Rising global geopolitical concerns could boost oil prices. While dynamics of 2011's "Arab Spring" continue, the current situation in the Strait of Hormuz poses an even larger risk.
Political instability also continues in key oil exporting countries such as Venezuela and Nigeria. Upcoming elections in oil-producing countries in the Middle East and South America could further heighten instability.
Generated by readers, the comments included herein do not reflect the views and opinions of Rigzone. All comments are subject to editorial review. Off-topic, inappropriate or insulting comments will be removed.
MORE FROM THIS AUTHOR
Karen Boman
Senior Editor | Rigzone