PetroChina Buys 20% Stake in Shell's Groundbirch Shale Asset
by Dow Jones Newswires
|
Yvonne Lee
|
Thursday, February 02, 2012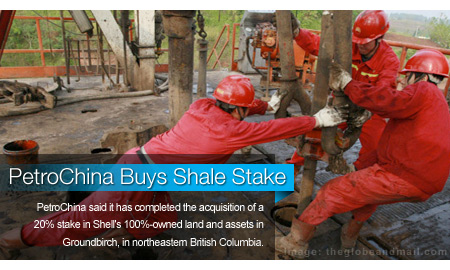 HONG KONG - PetroChina Co. has signed binding agreements to buy a stake in a Royal Dutch Shell PLC shale gas asset in Canada, marking the latest move by Chinese state-owned companies to expand their Canadian footprint and increase their ability to tap unconventional fossil fuels.
Beijing-based PetroChina said it has completed the acquisition of a 20% stake in Shell's 100%-owned land and assets in Groundbirch, in northeastern British Columbia. PetroChina didn't disclose the value of the deal and Shell declined to comment.
Financial news portal FinanceAsia Wednesday reported that the acquisition could be worth slightly more than $1 billion.
PetroChina, China Petroleum & Chemical Corp., known as Sinopec, and Cnooc Ltd. have all invested heavily in Canada's oil and gas patch in the past two years, typically but not always buying minority stakes.
In January, PetroChina paid 680 million Canadian dollars, or $666 million, to buy the 40% of the MacKay River oil-sands project in northern Alberta it didn't already own.
The latest acquisition comes days ahead of a visit to China by Prime Minister Stephen Harper, who in December said Canada was "very serious" about focusing its efforts on selling oil and gas to Asian countries.
PetroChina hopes to gain experience in the exploration and development of unconventional gas resources through its cooperation with Shell, the Chinese company said in a statement.
"PetroChina and Shell intend to further advance the exchange of technology in the development of unconventional gas. Furthermore, PetroChina hopes to achieve reasonable returns from the investment," the company said.
Groundbirch's natural gas output is now 125 million cubic feet per day, it added.
Last year, Sinopec paid C$2.2 billion for Daylight Energy Ltd., a Canadian conventional oil and natural gas company. In 2010, it paid $4.65 billion for a stake in the huge Syncrude oil-sands project in Alberta. Also last year, Cnooc bought the bankrupt oil-sands producer OPTI Canada Inc.
North America's energy sector has been transformed in recent years by the ability of gas producers to crack tight rock formations known as shale by injecting streams of water and chemicals.
At the same time, companies are also pushing ahead fast to unlock the billions of barrels of oil trapped in Canada's vast reserves of oil sands.
China's technically recoverable shale gas reserves are almost 50% greater than those of the U.S., a U.S. Energy Information Administration report showed. However, commercial production is being held back by harsh terrain, a lack of technology and regulatory uncertainty.
Generated by readers, the comments included herein do not reflect the views and opinions of Rigzone. All comments are subject to editorial review. Off-topic, inappropriate or insulting comments will be removed.