European Commission Could Tap Oil Stocks if Iran Stops Sales
by Dow Jones Newswires
|
Laurence Norman
|
Wednesday, February 01, 2012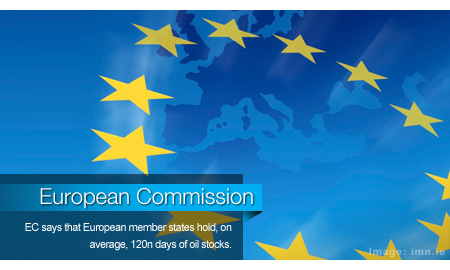 BRUSSELS - The European Commission does not rule out the use of member state oil stocks to replace any sudden cessation of Iranian crude oil imports, but EU diplomats are playing down Iranian threats to pre-empt an oil embargo by stopping sales to Europe.
The EU agreed an oil embargo on Iran on January 23 which will take full effect July 1. European officials are confident that by then, they will have largely replaced Iranian oil supplies with imports from Saudi Arabia and elsewhere.
However Iranian lawmakers have threatened to pre-empt the EU by immediately suspending sales to the EU. A vote planned for last Sunday in the Iranian parliament was postponed.
If Iran were to act first, it could make it difficult for EU member states like Greece, Italy and Spain to find alternative suppliers quickly enough. Those three countries were the EU's main importers of Iranian crude.
However the European Commission says EU member states hold on average 120 days of oil stocks - well above the minimum quota of 90 days of average daily net imports – they could dip into in an emergency. While the EU accounted for more than 20 percent of Iran's oil exports, its 600,000 barrels a day of imports from Iran made up only around 4-5 percent of its total crude imports last year, according to European Commission data.
Asked if these oil stocks could be used, Marlene Holzner, a spokeswoman for Energy Commissioner Gunther Oettinger said "that can be discussed if there is an immediate need for that".
While EU rules require member states to alert the European Commission, the EU's executive agency, if they are having supply difficulties or if their stocks fall below the minimum threshold, it is for member states to decide whether to release stocks. The EU can also authorize the release of emergency stocks from several member states if a supply disruption is deemed to have occurred.
EU countries in the Organization for Economic Cooperation and Development are required to hold 90 days of net imports as part of the International Energy Agency's emergency response program. The OECD countries had 145 days of IEA net imports in September, the last month with available data, according to the IEA.
EU diplomats say there has been no serious discussion yet of running down emergency stocks if Iran follows through on the threat.
However, one Brussels-based official familiar with discussions said that before January 23, the EU had factored in possible Iranian reactions to the oil embargo and were confident they could alleviate any supply pinch for member states.
"I think we have the means in place" to deal with this, the person said, without giving details. "When it comes to adopting an oil embargo, we don't take such decisions lightly."
Others also played down the ability of Iran to cause major supply disruptions. One diplomat said it would take Tehran time to find alternative buyers for its oil and that there was therefore skepticism about the threat.
And even if it did happen, the source said the EU's oil stocks and the assistance of alternative suppliers meant the EU could cope.
"We think the consequences would be manageable," he said.
Generated by readers, the comments included herein do not reflect the views and opinions of Rigzone. All comments are subject to editorial review. Off-topic, inappropriate or insulting comments will be removed.