Exxon Mobil 4Q Profit Rises 1.6% Amid Higher Prices
by Dow Jones Newswires
|
Tess Stynes
|
Tuesday, January 31, 2012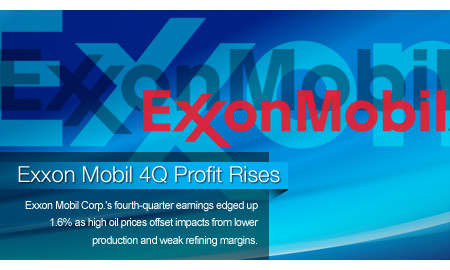 HOUSTON - Exxon Mobil Corp. said Tuesday its fourth-quarter earnings edged 1.6% higher as climbing crude prices helped the world's largest publicly traded oil company to offset a sharp fall in production and lower refining profits.
Irving, Texas-based Exxon Mobil reported a profit of $9.4 billion, or $1.97 a share, up from $9.25 billion, or $1.85 a share, a year earlier. The results narrowly beat analysts' expectations of $1.96 a share. Revenue increased 16% to $121.61 billion.
"Energy markets were mixed in the fourth quarter, crude oil and non-U.S. natural gas prices remain strong while worldwide industry refining margins saw significant declines," David Rosenthal, Exxon Mobil's vice president of investor relations told analysts in a conference call. "Growth [in developing countries] remains robust even with a slight decline in growth from China."
Exxon Mobil's quarterly numbers show the oil giant continued benefiting from high oil prices, which in the fourth quarter traded over $100 a barrel driven by the economic recovery in emerging markets. Its oil-and-gas exploration and production segment posted a quarterly profit of $8.8 billion, up from 18% from the same period a year earlier. The results were boost by high crude prices and the sale of the company's U.K. North Sea assets to Apache Corp.
But the figures also show Exxon Mobil--whose refining and marketing quarterly profits dropped to $425 million, from $1.15 billion a year earlier--isn't immune to the hardscrabble refining industry. The segment saw its margins shrink in the fourth quarter because of rising oil prices and tepid fuel demand.
Waning refining margins also hit results of Exxon's rival, Chevron Corp., which Friday posted a 3.2% fall in earnings mainly due to a loss in its refining segment.
Exxon Mobil's earnings also underscored the oil giant's continued struggle to fight production declines from depleting fields. The company's quarterly output fell 9% to 4.53 million barrels of oil equivalent per day mainly due to a decline in oil field productivity. Exxon Mobil's 2011 production was up 1% to 4.5 million barrels of oil equivalent per day, mainly thanks to a boost of its natural gas output.
Excluding effects of asset sales, quotas imposed by the Organization of Petroleum Exporting Countries and production sharing contracts--which give less output to the company when crude prices go up--Exxon's annual production was up 4%, the company said.
UBS estimated Exxon Mobil's production will grow a narrow 0.2% in 2012.
Exxon's production struggle comes despite posting record-high spending of $36.8 billion in 2011, up 14% from a year earlier. The company is expected to announced its 2012 capital budget in coming weeks. Investors shouldn't be surprised to see Exxon spend more this year than in 2011 as it has to invest heavily to offset a sharp output decline, said Fadel Gheit, an analyst with Oppenheimer & Co.
Exxon Mobil results also signal the company bucked the industry's trend of cutting natural gas production in the U.S. due to lower commodity prices as its domestic quarterly output rose 3.5% to 4 million cubic feet per day. Exxon became the largest U.S. natural-gas producer after it acquired XTO Energy in 2010 for $25 billion. Despite recently historical-low natural gas prices, Exxon Mobil remains bullish about commodity prices in the long term, Rosenthal said.
By contrast, Exxon Mobil's quarterly U.S. oil production dropped 5% despite having switched its drilling focus to liquids-rich areas. This was because the company is spending a lot of time appraising the area rather than rushing to drill production wells, Rosenthal said.
"It's really figuring out what we got and what the best way is to go about developing and producing it so that we optimize the total over a long period of time as opposed to again being in a big hurry," Rosenthal said. "I will say we probably spend a little more time than others working on the front end design and valuation."
The company said it plans to run about 65 rigs to 70 rigs across shale-gas and tight-oil areas in the U.S., unchanged from this year, and that it plans to continue focusing drilling in oil-rich areas.
Internationally, Exxon Mobil's first two shale gas wells in Poland did not produce commercial quantities of natural gas, Rosenthal said. The results came at a time when Poland is being closely followed as it is one of the countries where major oil companies such as Exxon, Chevron, ConocoPhillips and Marathon Oil Corp. have made large investments with the idea to repeat there the U.S. shale boom.
Exxon also said its Papua New Guinea's liquefied-natural-gas project is on scheduled to start production in 2014 and that the production start-up of some nearby fields of the deepwater Kizomba project of the coast of Angola are on schedule for mid-2012.
In the downstream side, ExxonMobil said it may "optimize" its refining and marketing operations in countries were demand for fuels is expected to be flat or declining. The company, however, said it will continue to invest in areas that have attractive growth.
Exxon's chemical quarterly earnings fell to $543 million, from $1.06 billion in the same period a year earlier.
Exxon Mobil said it plans to spend $5 billion in share repurchases during the first quarter, about the same level it spent in the fourth quarter.
Generated by readers, the comments included herein do not reflect the views and opinions of Rigzone. All comments are subject to editorial review. Off-topic, inappropriate or insulting comments will be removed.
RELATED COMPANIES