Absorbent Glass Provides Solution for Flowback Water Treatment
by Karen Boman
|
Rigzone Staff
|
Monday, January 30, 2012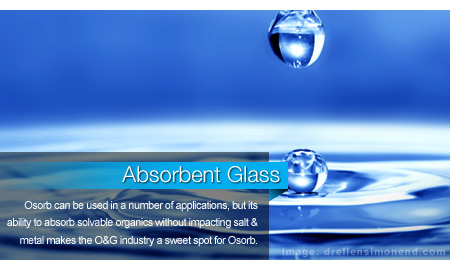 Imagine glass that can swell and, like a sponge, absorb volatile organic matter from water. Thanks to an accidental discovery in a lab several years ago, this type of esoteric glass, Osorb, has become reality.
Officials with Houston-based Produced Water Absorbents (PWA), the newest portfolio company of oil and gas technology investment company Energy Ventures, believe Osorb has significant potential for helping oil and gas companies recycle flowback water in shale gas exploration.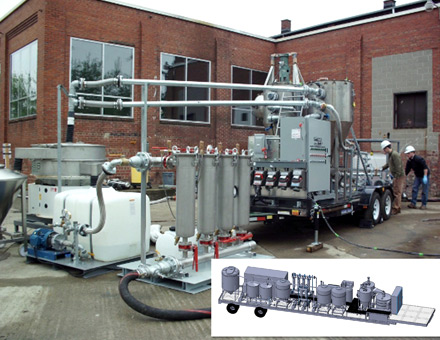 Capable of swelling up to eight times its original size, Osorb can capture a wide range of neat, dissolved or vapor-phase organics, including hydrocarbons, chlorinated solvents and endocrine disruptors. Osorb also can be regenerated over 100 times, with absorbed contaminants removed by mild thermal treatment and rinsing. Any absorbed organics can then be properly disposed of or recycled.
Osorb can be used in a number of applications, including drinking water treatment and industrial site clean-up, but its ability to absorb solvable organics without impacting salt and metal makes the oil and gas industry a sweet spot for Osorb, said PWA CEO Stephen Spoonamore.
The company provides mobile units that can treat produced and flowback water on site anywhere. PWA even helped in the cleanup following the Deepwater Horizon incident in 2010. At first, Osorb was going to bring down a mobile unit to treat water.
However, the lack of parking space onshore -- limited number of heavy lift areas due to equipment being utilized to cap the Macondo oil spill -- prevented this from happening. Instead, water was trucked to PWA's Ohio facility for treatment.
The introduction of Osorb comes at a time when water shortages in some areas have forced oil and gas companies to recycle water used in hydraulic fracturing. State requirements for the disclosure of chemicals used in fracking, and concerns of the U.S. Environmental Protection Agency over potential groundwater contamination, also have created the need for treatment of flowback water, and need for Osorb.
Unlike remediation methods such as air stripping, granular activated carbon, sparging or oxidizers, Osorb leaves no toxic by-products, no landfilling, virtually no replacement costs and minimal energy requirements with our products. Using Osorb can allow companies to successfully manager water resources without the chaos of thousands of disposal wells, Spoonamore noted.
Dr. Paul Edmiston, chairman of chemistry at the College of Wooster in Wooster, Ohio, and research fellow with Georgia Tech, accidentally discovered Osorb approximately seven years ago while trying to design advanced glass material that could detect explosives at airports. Edmiston, who has developed over 200 new types of responsive glass materials during his career, had received a grant from the National Science Foundation to pursue the project.
The esoteric glass Edmiston was trying to design was intended to have a porous structure that would allow the specific shape of TNT and DNT to fit like a key in a key hole with the glass' structure, allowing explosives to be detected. Instead, Edmiston found a glass that was just organized enough to remain solid but could liquefy and surround a DNT molecule, changing shape so radically it fully swallowed the molecule. It also swallowed volatile and organic compounds.
Spoonamore, who has built and launched a number of companies over the years, initially met Edmiston socially through his wife, who is a professor of costume history and design at Wooster. He met Edmiston again on a plane ride to Washington D.C., where Edmiston was going to show some potential investors his product.
He showed Spoonamore a small, 10 millileter vial with a sample of Osorb, which was the size of a grain of sand. Edmiston explained what the product could do and said he'd had trouble getting people to take the product seriously.
Spoonamore had read about Edmiston's work and was fascinated. Spoonamore, whose background is in building companies, then decided to partner with Edmiston to market the product.
The two formally established ABSMaterials' in early 2008 to market Osorb, with the first commercial batch following in July 2009. Later, PWA was established to market Osorb as a commercial oilfield water treatment solution. Energy Ventures, an independent venture capital firm focused on commercializing new upstream oil and gas technologies, later stepped in to help finance the company, raising $11 million in June 2011.
Since its establishment, the company has grown from Edmiston, Spoonamore and 2008 Wooster graduate Laura Underwood to a firm with over 30 full-time employees and two locations.
Last October, Edmiston, who splits his time equally as chief science officer of PWA and teaching at Wooster, and Osorb were honored by Popular Mechanics as one of its Top Ten Breakthrough Awards. The honor was the latest in a string of awards and grants that ABSMaterials has received.
The company has done pilot testing of Osorb with BP, Statoil, Maersk and three service companies. PWA will open a water treatment facility in Ohio to treatment flowback water from Utica shale activity in the state, and over the next year, will nearly triple its existing Osorb production of 1.2 tons per month.
The company has three small skid units with a multichamber bed design; each one can treat a few hundred barrels of water. The company may begin building a third treatment unit this summer. PWA also is engineering a 5 barrel/minute unit for a customer; the unit is due for wet testing in the fourth quarter of this year.
PWA also is "very interested" in promoting the use of Osorb in the Eagle Ford and Bakken plays, said Spoonamore, noting that the technology plays best with extremely large water loads. The water is cleaned and turned over to customers as a brine that is useful for frack jobs. Osorb also could be used in the downstream oil and gas industry as it would not affect catalysts that are used in the refining process, Spoonamore noted.
Generated by readers, the comments included herein do not reflect the views and opinions of Rigzone. All comments are subject to editorial review. Off-topic, inappropriate or insulting comments will be removed.