Rigzone Examines Hypothetical KXL Construction Pay
by Matthew V. Veazey
|
Rigzone Staff
|
Monday, January 30, 2012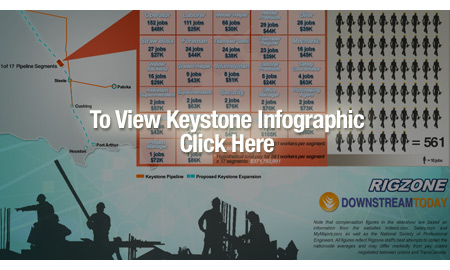 Monday's announcement that 44 senators plan to introduce legislation to approve the Keystone XL pipeline project is further proof that the push to advance the project this year is well underway.
President Obama's recent decision to deny Keystone XL a vital permit and his judgment that the project is not in the national interest has at least delayed the creation of up to 20,000 U.S. construction and manufacturing jobs and possibly tens of thousands of additional indirect jobs. Obama made the decision at a time when, according to one measure of unemployment, more than 15 percent of U.S. workers are unemployed or underemployed.
Using figures supplied by TransCanada shortly before Obama rejected the project, Rigzone has calculated the estimated annual U.S. direct economic impact of Keystone XL in terms of construction jobs. Based on compensation figures from various sources, all 561 construction workers on one U.S. Keystone XL pipeline segment would hypothetically earn nearly $22 million in one year. The hypothetical annual pay approaches $372 million for all 17 U.S. pipeline segments.
For the complete story on how the decision has affected the economy and employment, please click here to read the article on DownstreamToday.com
Generated by readers, the comments included herein do not reflect the views and opinions of Rigzone. All comments are subject to editorial review. Off-topic, inappropriate or insulting comments will be removed.
RELATED COMPANIES