Russia to Maintain Production Sharing Agreements
by Dow Jones Newswires
|
JJacob Gronholt-Pedersen
|
Monday, January 30, 2012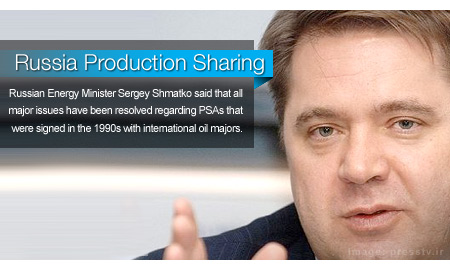 MOSCOW - Russian Energy Minister Sergey Shmatko said Monday that all major issues have been resolved regarding production sharing agreements, or PSAs, that were signed in the 1990s with companies such as ExxonMobil Corp. and Royal Dutch Shell PLC.
"The issue of PSAs has been settled for good," Shmatko told government officials and company executives at a meeting in Moscow.
Russia invited international oil majors such as ExxonMobil, Shell and Total SA to secure lucrative PSAs in the 1990s, but later turned sour on those partnerships, which it felt were too favorable to the oil companies.
Some minor issues regarding higher efficiency and development of infrastructure still remain, Shmatko said.
"But today, we have no fundamental problems," he said.
ExxonMobil and Shell signed PSAs in the 1990s to become operators of large projects off Russia's Pacific coast, but pressure mounted on both during the past decade as Russia sought to renationalize its oil and gas industry. In 2007, Shell was forced to cede control of its Sakhalin-2 project to state-run gas giant OAO Gazprom.
Over the last two years, Russian officials have voiced threats to revoke ExxonMobil's operator status at the Sakhalin-1 project, and have on some occasions delayed approving ExxonMobil's budget.
Under PSAs, companies shoulder all investment costs but can recover them from the sale of oil or gas before having to share revenue with the government.
Besides Sakhalin-1 and Sakhalin-2, Total operates a smaller PSA project, the Kharyaga field in northern Russia.
Shmatko said Monday that no new PSAs are under consideration. At the end of 2010, he said favored a "renaissance" in PSAs to attract foreign investments, as Russia seeks to open new difficult production regions.
Generated by readers, the comments included herein do not reflect the views and opinions of Rigzone. All comments are subject to editorial review. Off-topic, inappropriate or insulting comments will be removed.
RELATED COMPANIES