Uganda President: Tullow Asset Sale Deal Deadlocked
by Dow Jones Newswires
|
Nicholas Bariyo
|
Friday, January 27, 2012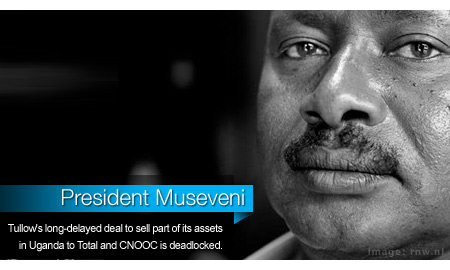 KAMPALA, Uganda - U.K.-based Tullow Oil PLC's long-delayed deal to sell part of its assets in Uganda to France's Total SA and China's CNOOC Ltd. is deadlocked due to a fresh row with the government over stabilization clauses and the oil development plan, the country's president said Friday.
President Yoweri Museveni told reporters here that Tullow and its proposed partners had objected to government proposals to amend the stabilization clauses in their joint oil production sharing agreement for the country's three blocks in the Lake Albertine rift basin.
The stabilization clauses were proposed by the three joint partners in the deal late last year as a risk management device as they seek to embark on $10 billion development projects to develop the country's oil assets.
"I was ready to authorize [the deal] but some of the oil groups brought new confusion so I didn't accept," Museveni said. "There were two issues, one was the stabilization clause [and] the second issue was our desire for a refinery here to refine oil for Uganda and for the region. I don't know whether they have changed their mind because I haven't heard from them recently."
Museveni said that while Uganda is insisting on building a refinery in order to create jobs and export refined fuel products in the East African region, the companies want an export pipeline to export crude oil.
Tullow reached a $2.9 billion deal with Total and CNOOC Ltd. early last year but the deal has since been awaiting government approval.
Last week, Tullow had indicated that it expected approval by the end of January. A Tullow spokesman declined to comment on the latest development. Total and CNOOC couldn't comment immediately.
Museveni's revelations could further delay the deal and development of Uganda's oil assets. It had already been put back by a tax dispute between the government and Heritage Oil PLC, Tullow's former partner in two of the blocks.
The Ugandan parliament passed a resolution in October last year prohibiting government from approving the production sharing agreement before enacting the necessary oil legislation. Although the ruling party later voted to approve the deal, Museveni is yet to approve it.
Company officials had projected last year that Uganda could reach commercial oil production levels of around 200,000 barrels-a-day by 2016.
At least 2.5 billion barrels of oil have been discovered in three oil blocks along the country's western border with Congo.
Generated by readers, the comments included herein do not reflect the views and opinions of Rigzone. All comments are subject to editorial review. Off-topic, inappropriate or insulting comments will be removed.
RELATED COMPANIES