EU: Study Shows No Need for New Laws to Regulate Shale Gas
by Dow Jones Newswires
|
Alessandro Torello & Marynia Kruk
|
Friday, January 27, 2012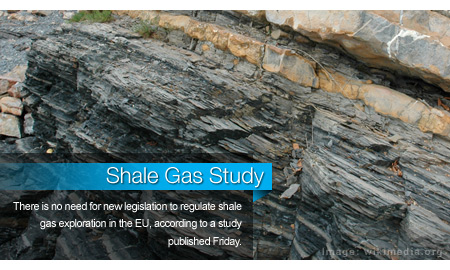 BRUSSELS - A European Union-commissioned study released Friday concluded there is no need for new legislation to regulate shale gas exploration in the European Union, suggesting a cautious approach to an issue that has divided EU members.
"Overall, we can conclude that the current legislation, especially in the field of environmental protection, already covers most aspects linked to shale gas activities," the study said. It added, however, that "some adjustments to legislation should be further considered in order to improve its appropriateness and practicability with a view of regulating shale gas activities."
The report, which was praised by some shale gas advocates and criticized by environmentalists, comes as a nascent shale gas industry picks up momentum in Poland, even as other parts of Europe restrict development and bar a controversial production technique known as hydraulic fracturing. Shale gas has also generated huge political debate in the U.S., even as it has enabled the country to become a net exporter of natural gas.
The EU has no authority to determine the mix of energy sources that each of the 27 member countries chose. But industry advocates for shale gas have been concerned that the EU could impose environmental rules that might prevent shale gas development. At least one leading analyst Friday said the EU could still move to restrict shale gas development.
Energy Commissioner Guenther Oettinger said the report "confirms that there is no immediate need for changing our EU legislation," according to a statement released by the Commission. "We take environmental concerns seriously and will continue to monitor the development of shale gas extraction in the EU."
Some shale gas advocates praised the report and Oettinger's comments as a sign the EU would take a hands-off approach to the issue.
"We are pleased that after careful review the EU believes the existing regulatory framework for oil and gas exploration and production provides enough safeguards to ensure that natural gas from shale can be produced responsibly in its member countries," said John Claussen, Country Manager for Chevron's operations in Poland.
But environmentalists said the EU's conclusion was premature and rued that shale gas would divert attention from important renewable energy investment.
"It is still too early for energy officials to conclude that other EU laws will not need adjusting," said World Wildife Fund policy advisor Mark Johnston. "The Commissioner's claim is clearly premature."
Eurasia Group analyst Will Pearson expects the EU's environment directorate to introduce new regulations pertaining to chemical disclosure and environmental impact assessments. "That slows down the production outlook," Pearson said.
Shale gas is extracted by injecting large amounts of water mixed with chemicals underground, to crack the rocks that trap the gas and push it to the surface, a process called hydraulic fracturing, or fracking. Opponents fear that the procedure can pollute drinking water sources and possibly create small earthquakes, while supporters say that the gas operations are carried out much deeper underground and if the engineering is correct there is no danger.
The study avoided an evaluation of hydraulic fracturing, but said the process "raises a number of concerns as regards possible environmental impacts."
The International Energy Agency, which represents the interests of major energy importing rich countries, said in November that the growth of hydraulic fracturing, "is challenging the adequacy of existing regulatory regimes." The IEA plans to publish a report of its own in the spring advising its members countries on best practice for regulating the industry.
Exploratory drilling is taking place at more than 20 sites in the EU, half of which are in Poland.
Generated by readers, the comments included herein do not reflect the views and opinions of Rigzone. All comments are subject to editorial review. Off-topic, inappropriate or insulting comments will be removed.