TRC: Water Supply Adequate to Support Eagle Ford Activity
|
Thursday, January 26, 2012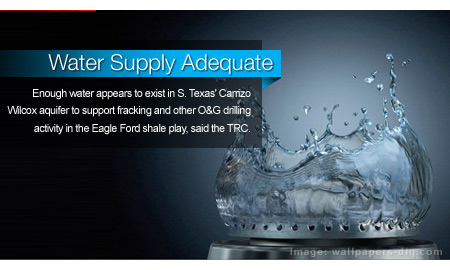 Enough water appears to exist in South Texas' Carrizo Wilcox aquifer to support hydraulic fracturing and other oil and gas drilling activity in the Eagle Ford shale play, the Texas Railroad Commission (TRC) reported Thursday.
Members of the Eagle Ford Task Force (EFTF), appointed by Texas Railroad Commission David Porter, reached this conclusion after studying data concerning water usage from several sources. The data was presented to EFTF during meetings in San Antonio in November and December of last year.
Data presented to the group indicated that drilling and completions in the Eagle Ford shale account for approximately six percent of the water demand in South Texas, while irrigation accounts for 64 percent and municipal use accounts for 17 percent.
As a whole, the oil and gas industry has reduced the amount of water used to hydraulically fracture wells, with an average use of approximately 11 acre-feet of water used to complete each well, down from the estimated 15 acre-feet previously used.
"I am pleased industry has made improvements in reducing the amount of water used in the hydraulic fracturing process, and we look forward to working in a cooperative manner with all task force stakeholders to continue improving the process," said task force member Teresa Carrillo, executive committee member of Sierra Club's Lone Star chapter.
However, concern remains that the pumping of water will have localized impacts on water levels in the aquifer and on aquifer discharges to streams and springs, Carrillo commented.
"We are hopeful that through this task force process our concerns will be addressed," said Carrillo.
The Carrizo Wilcox aquifer contained 540,000 acre-feet of available water in 2008, the same year that Eagle Ford shale drilling activity began.
Water levels had declined due to the current drought. However, groundwater pumping for oil and gas drilling and completion is not viewed "as a significant contribution to the decline in water levels, when compared to overall pumping," said task force member Mike Mahoney, general manager for the Evergreen Underground Water Conservation District.
The Eagle Ford shale boom, which has resulted in a significant influx of drilling activity and workers to South Texas, also has raised concerns about whether adequate water supplies existed to support hydraulic fracturing as well as the region's agricultural needs.
To address this issue, several companies that have representatives on the task force have been looking into using brackish water for fracking versus fresh water. Steve Ellis, senior division council for EOG Resources, noted that EOG would expand its use of brackish water in its completion operations to reduce the demand for fresh water.
Approximately 2,600 to 2,800 new wells are expected to be completed annually in the Eagle Ford at peak demand; this would translate into about 30,000 acre-feet of water per year during the heaviest point of development of the Eagle Ford shale.