Analyst: BP's 'Small Victory' in Siberia Carries 'Great Weight'
by Jon Mainwaring
|
Rigzone Staff
|
Thursday, January 26, 2012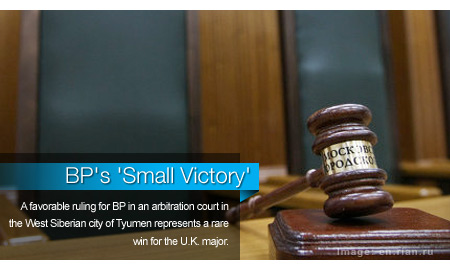 BP's "small victory" in a Siberian arbitration court is actually a significant step forward for the firm in Russia, according to a UK-based oil analyst who follows the company closely.
The court, in the West Siberian city of Tyumen, rejected an appeal Thursday by minority shareholders in BP's Russian joint venture, OAO TNK-BP, in a multi billion-dollar lawsuit, which was described by Dow Jones as a "small victory" for the U.K. oil major.
The plaintiffs, led by Andrey Prokhorov (who has a 0.0000106 percent stake in TNK-BP), claim two BP-appointed directors on the TNK-BP board acted against the company's best interest by dismissing a bid to replace the U.K. firm as partner of state-controlled oil company OAO Rosneft in an Arctic exploration alliance that collapsed in May 2011.
Speaking to Rigzone, Nick McGregor – an oil analyst at U.K. firm Redmayne Bentley Stockbrokers – agreed it was a small victory. "But there haven't been many of them for BP in relation to their activities in Russia. So small victories carry great weight at the moment," he said. "There have been precious few wins [for BP] in their dealings with Russia over the last 12 months or so. So, I think BP will be pleased that they've at least managed to chalk up this modest victory and will hopefully see it as a building block to move forward."
McGregor explained that many observers following the case take the view that the minority shareholders are really acting on behalf of larger Russian shareholders of TNK-BP stock "because the conflict is really between BP and the oligarchs who control the other half of TNK-BP".
Despite Thursday's victory, McGregor said that the dispute between the oligarchs and BP needs to be resolved one way or the other.
"It remains the case… that [BP] aren't getting on with their Russian partners," he said. "There is other litigation and arbitration pending with their Russian partners and, from a broader market point of view, a resolution – either a break up of the existing TNK-BP arrangement between the oligarchs and BP or, failing which, a clean sheet where they put their differences aside – is essential for the way forward. Otherwise a big question mark still hangs over that very, very significant aspect of BP's operations."
BP depends on TNK-BP for around a quarter of its total production.
Dow Jones Newswires contributed to this report.
Generated by readers, the comments included herein do not reflect the views and opinions of Rigzone. All comments are subject to editorial review. Off-topic, inappropriate or insulting comments will be removed.
RELATED COMPANIES