SOTU Response: Domestic Production, Keystone Could Bring Jobs
by Matthew V. Veazey
|
Rigzone Staff
|
Wednesday, January 25, 2012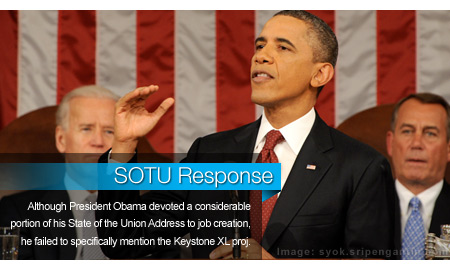 President Obama devoted a considerable portion of his 6,963-word State of the Union Address Tuesday evening to job creation, but the approximately 65-minute-long speech failed to specifically mention the Keystone XL project that supporters say could generate 20,000 direct and more than 100,000 indirect jobs.
At least, he did not mention the oil pipeline project by name.
Obviously referring to reports that the GOP may tie the extension of a federal payroll tax reduction to approval of Keystone XL, Obama called on Congress to stop "a tax hike on 160 million working Americans" so that they can keep an estimated $40 out of each paycheck.
Shortly before Christmas, Congress passed a bill preventing a federal payroll tax from increasing until the end of February. Obama signed the legislation, which called on him to make a decision on Keystone XL within two months. Thanks to Obama's decision to reject the project last week, the GOP's effort to advance the project failed. Obama advised Congress to focus solely on extending the payroll tax reduction.
"There are plenty of ways to get this done," Obama said. "So let's agree right here, right now: No side issues. No drama. Pass the payroll tax cut without delay."
In their responses to the address, a number of Republican elected officials were only too happy to refer to Keystone XL by name and remind the President of the jobs that would accompany it.
"He [Obama] claims to care about energy security, yet he stopped the Keystone pipeline -- and the 20,000 American jobs it would have created -- which would have done more than any other project to increase our energy security and revive our economy," said Sen. Jim Inhofe (R-Okla.) in written statement.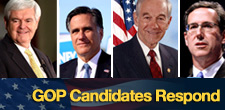 Learn More
In the official Republican response to the address, Indiana Gov. Mitch Daniels noted that Obama's Keystone XL decision and other energy policy moves by the administration have curbed economic growth and job creation.
"The extremism that stifles the development of homegrown energy, or cancels a perfectly safe pipeline that would employ tens of thousands, or jacks up consumer utility bills for no improvement in either human health or world temperature, is a pro-poverty policy," Daniels said.
House Speaker John Boehner, who politely clapped during several of Obama's applause lines, verbally slapped at Obama's energy record in a blog posting criticizing the President's record on "Job- Creating Energy Projects."
In reference to Obama's statement that the U.S. "needs an all-out, all-of-the-above strategy that develops every available source of American energy," Boehner's blog accused the administration of failing to encourage the Senate to act on House-passed energy legislation that reportedly would boost job creation by expanding domestic energy production.
Specific bills that the House Speaker's office urged Senate action on include the following:
Boehner also ensured that Tuesday's event would include several living, visual reminders of Keystone XL. He invited a number of project supporters to sit in the speaker's box in the House chamber while Obama spoke.
In another GOP response to the State of the Union address, Kentucky Sen. Rand Paul reminded the public that allowing Keystone XL to proceed would facilitate private-sector job creation.
"The Keystone pipeline would instantly create thousands of jobs without costing the taxpayers a dime," Paul said, adding that it would enhance U.S.-Canada relations and lower America's dependence of oil imported from the Middle East.
"The Keystone pipeline was in America's best interest," Paul continued. "Yet the President rejected this pipeline and the American people, by siding with the liberal environmentalists instead--just as he did with Solyndra."
Industry Responses
Officials with oil and gas industry associations voiced support for measures to allow Keystone XL to proceed and boost access to domestic oil and gas resources.
"President Obama should reverse his unfortunate decision blocking construction of the Keystone XL pipeline," said Charles T. Drevna, president of American Fuel & Petrochemical Manufacturers (AFPM), which until this week was known as the National Petrochemical & Refiners Association (NPRA).
"The pipeline could bring us 700,000 barrels of oil each day from Canada and from North Dakota and Montana to benefit the American people," Drevna continued. "This vital project has already been subject to three years of permit delays and should be approved now because it is unquestionably in our national interest."
The head of AFPM also said that his 110-year-old organization has always pushed for more domestic energy production and manufacturing of fuels and petrochemicals. He urged the administration to take a more collaborative stance in shaping policies affecting the energy industry.
"While President Obama is correct that creating new manufacturing jobs and producing more domestic energy is critically important, we wish he would work with us constructively to enact regulatory and tax policies to preserve existing manufacturing jobs held by Americans today in our industries and others," Drevna said.
"Continuing to demonize our industries and falsely claiming we get subsidies is counterproductive and leads to job destruction instead of job creation," added Drevna. He urged Obama to "create a framework of sensible regulation and pro-consumer policies" to enable U.S. energy companies to "on a level playing field" globally.
"Far too many American manufacturing jobs have been lost to other nations in recent years," Drevna said. "We need to stop this exodus of jobs and reduce the intolerably high unemployment rate that is devastating millions of American families."
Obama's address reminded American Petroleum Institute (API) President and CEO Jack Gerard of an era when disco was king, bell-bottom pants were popular and long lines at U.S. fuel stations were at times the norm.
"The President's tax plan sounds like something Jimmy Carter would have supported back in the 70s," Gerard said. "It would raise energy costs, cut energy production, sacrifice jobs and increase imports. Our industry already pays income taxes at higher effective rates than most other industries."
"If the President is serious about creating more jobs and more energy, allow America's oil and natural gas companies to produce more of our energy at home, and we'll put people to work and deliver more revenue to the government," continued Gerard. "That's what the American people want."
Independent Petroleum Association of America (IPAA) Chairman Virginia "Gigi" Lazenby applauded the president for his stated commitment to "expanding the responsible development of job-creating American oil and natural gas," and noted that job creation and the "restoration of the American dream is a shared goal that exceeds political boundaries."
However, the energy industry's success in boosting U.S. oil and gas production, creating jobs and stimulating the weak U.S. economy has been achieved in spite of the administration's at times harshly anti-oil and natural gas policies, not because of them.
Lazenby added that independent U.S. producers are generating hundreds of millions of dollars in local, state and federal tax revenues, and investing an average 150 percent of their cash flow back into domestic energy development.
"Despite the unnecessary regulatory burdens and threats of massive new billion dollar tax hikes put forth by this administration, America's independent oil and gas natural gas producers -- with an average of just twelve employees each -- continue to enhance technology, bolster environmental safeguards, and provide the American people with the reliable energy our nation needs to remain strong," Lazenby commented.
IPAA Vice President of Public Affairs & Communications Jeff Eshelman disputed the assertion that government contributed to the development of fracking technology, noting that the technology used today in shale plays was created by industry more than 50 years ago and further development by Texas independent producer George Mitchell.
"The Department of Energy's Office of Fossil Energy has done some research into hydraulic fracturing over the years and may have developed some improvements, but fracturing technology wasn't created by the government," Eshelman noted.
"Ironically, on one hand, the President tries to give the government credit for this technology, but on the other hand he has tried to 'zero out' the budgets of DOE's fossil energy research programs for the past three years," Eshelman commented. "If they've done such good work, why would the President want to dismantle these agencies?"
-- Rigzone News Editor Karen Boman contributed to this article from Houston.
Generated by readers, the comments included herein do not reflect the views and opinions of Rigzone. All comments are subject to editorial review. Off-topic, inappropriate or insulting comments will be removed.