API Top Dogs to Maybe Join with Obama on 'American-Made Energy'
|
Tuesday, January 24, 2012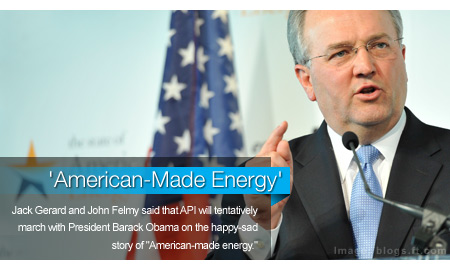 In upbeat, early drum roll preceding Tuesday night's election-year, presidential State of the Union message, the American Petroleum Institute's president and CEO, Jack Gerard, and chief economist, John Felmy, said that API will tentatively march during 2012 in step with President Barack Obama … on the happy-sad story of "American-made energy."
In a tele-call press conference on Tuesday morning, API made some of the following key points:
America's domestic energy supply picture is rapidly improving, especially from cleaner-burning natural gas – much of it from Felmy's native, erstwhile-coal region, Western Pennsylvania, now the heartbeat of the Marcellus shale gas play.
However, all is not good on the domestic oil front, especially with President Obama recently nixing the Canada-to-Texas Keystone pipeline, for now, anyway.
America still imports about 49 percent of its oil needs, Felmy noted.
The petroleum industry alone could generate jobs, jobs and more jobs, and lots of them: About 1.4 million more jobs are possible if Obama's "actions match his words" on more U.S. oil and gas production in the future, API said.
Opening more federal lands, speeding up certain key offshore production and cutting too much Obama Administration red-tape will be key there, API continued.
API views this situation as a "bipartisan call to action."
API also thinks that Congress may later break the gridlock and vote for the Keystone pipeline, anyway. (A "pipe dream," maybe? Stay tuned.)
Environmentally responsible, job-generating "American made" energy will be a key theme of Mr. Obama's State of the Union message Tuesday night.
API's polls show that this is what a majority of American people want, API told reporters.
Here are some "fuel for thought" verbatim quotes and statistics from API etc.:
"According to EIA [U.S. Energy Information Administration] data, under current policy, we're heading to a 35 percent drop in Gulf [of Mexico] offshore production by next year over what had been projected. We've recently taken 85 percent of our offshore areas off the table. And we've seen a 13 percent decline in permitting on western federal lands that is holding us back on job creation and revenue generation." – Jack Gerard, API
"We understand that in his State of the Union address this [Tuesday, January 24, 2012] evening, the President will embrace additional domestic energy development as a way to help the nation's employment picture. We welcome this change of course. We know our industry can put Americans to work. We've been doing so. We're part of the solution he's looking for." – Jack Gerard, API
"Yesterday [Monday, January 23, 2012], EIA released its Annual Energy Outlook 2012 report highlighting a projected increase in domestic oil and natural gas production. Increased domestic production is good news. It will strengthen our energy security." – John Felmy, API
"But, perhaps more important, it will also put people back to work today and continue to be an employment base for the nation for decades to come. America's oil and natural gas industry now supports more than 9 million jobs and is still creating them in these difficult times." – John Felmy, API
"More jobs from development of all forms of energy are possible, because our nation will use about 10 percent more energy in 2035 than in 2010, according to EIA. However, the potential for more jobs is especially large for oil and natural gas. That's true even though EIA projections show a small decrease in oil consumption through 2035 and only a 10-percent increase in natural gas consumption." – John Felmy, API
"Today, we import about half of our oil and about 11 percent of our natural gas. Displacing a significant fraction of that with more domestic oil and natural gas could mean a vast infusion of additional job-creating investment into our economy." – John Felmy, API.
"Indeed, if we committed to a strong program of development, based on increased access, improved regulations, a return to pre-moratorium permitting rates, and importing more secure supplies of Canadian crude, we could in 2030 create as many as 1.4 million jobs, generate $800 billion in additional revenue, and substantially boost U.S. oil and natural gas production, according to a study last year by Wood Mackenzie. – John Felmy, API.
Rigzone's Analysis: No More "Dinosaurs" or PAC-Man Games?
Based on this writer's extensive coverage of energy + economic policy debates since 1976, here are some other significant trends to watch in the 2012 election:
This one might not die at the debate-only stage, after all.
Look for little-but-big bipartisan "housecleaning" activities in this election year.
Then, they might even get on to the bigger agenda of crafting a first-ever Bi-Partisan U.S. Energy Policy.
Never before has API come out at a time like this wearing its fancy-best, what's-best-for-everybody "suits."
Big news there.
In years of yore, API just dusted off and donned its favorite (but long-outgrown) "dinosaur costumes" for these occasions and not much ever got done.
API used to sound like a bunch of spoiled, rich-kid whiners, as in: "We want the whole Gulf of Mexico, the entire Alaskan National Wildlife Refuge (ANWR) and also the California offshore too, or else."
Almost all of those places went discreetly unmentioned now.
There was none of that annoying whining!
Notably, API said that it is no longer going to throw big dollars into those very divisive-but-still-somehow legal political action committees (PACs.)
In other words, API is apparently neither supporting nor opposing Mr. Obama and various members of the U.S. Congress.
Rather, API said that it will be going directly to "We the People of the United States of America," with vote4energy.org, an Internet educational campaign, among other things.
It ought to be an interesting and informative election year, anyway.
Generated by readers, the comments included herein do not reflect the views and opinions of Rigzone. All comments are subject to editorial review. Off-topic, inappropriate or insulting comments will be removed.
RELATED COMPANIES
Company: American Petroleum Institute (API)
more info