Petrobras Taps Silva Foster As Chief Executive
by Jeff Fick
|
Dow Jones Newswires
|
Monday, January 23, 2012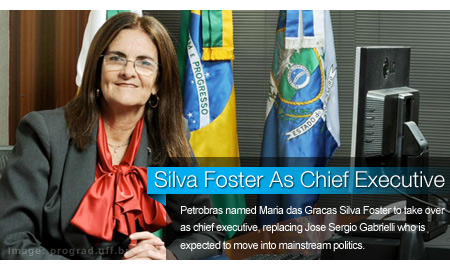 RIO DE JANEIRO (Dow Jones Newswires), Jan. 23, 2012
Brazil's state oil company Petroleo Brasileiro (Petrobras) Monday named Maria das Gracas Silva Foster to take over as chief executive, replacing Jose Sergio Gabrielli who is expected to move into mainstream politics.
Petrobras' board of directors is seen approving the appointment at its next meeting on Feb. 9, Petrobras said in a statement. The government owns a majority of Petrobras' voting stock and the appointment should be rubber-stamped.
Foster has been the director for natural gas and energy at Petrobras since 2007 and is expected to stick closely to the government's strategy for developing huge oil reserves discovered off Brazil's southeast coast in recent years. Petrobras will be spending at least $224 billion in coming years to extract billions of barrels of oil, and Foster's main task will be to cope with the challenges posed by such a vast and rapid expansion.
Foster, an engineer who is well respected in the oil industry, had been widely tipped as a successor to Gabrielli partly due to her long-standing ties to President Dilma Rousseff.
The two first met in 1999 when Rousseff was the energy secretary for the southern state of Rio Grande do Sul and Foster was managing construction of a natural gas pipeline from Bolivia, according the Exame magazine. When Rousseff became mines and energy minister in 2003, she named Foster to a key position in the ministry.
"Graca has the absolute confidence of President Dilma," Sen. Delcidio Amaral, himself a former Petrobras executive, said on Twitter. "Those that know her know she will...provide competent management!"
Gabrielli has served as Petrobras chief executive since 2005, but there have been constant reports recently that he would like to run for political office, most likely as governor of his home state of Bahia in northeast Brazil. The current governor, Jaques Wagner, is in his second term and is prevented him from running a third time due to term limits.
A spokesman for the Gov. Wagner didn't respond to a message Monday morning.
Petrobras shares in Sao Paulo traded 1% higher at 24.46 Brazilian reais ($13.85).
Most analysts agreed that the move is likely to be neutral or positive for Petrobras.
"The change at the top is not something that we see as traumatic for investors," one analyst said in a report to clients. Foster has been a "good" manager at her unit and is unlikely to turn toward capital increases as a source of funding for Petrobras's massive investment plans. "We are cautiously positive," the analyst said.
Copyright (c) 2012 Dow Jones & Company, Inc.
Generated by readers, the comments included herein do not reflect the views and opinions of Rigzone. All comments are subject to editorial review. Off-topic, inappropriate or insulting comments will be removed.
RELATED COMPANIES