Chesapeake Energy to Cut Drilling, Production Due to Gas Glut
by Ben Lefebvre
|
Dow Jones Newswires
|
Monday, January 23, 2012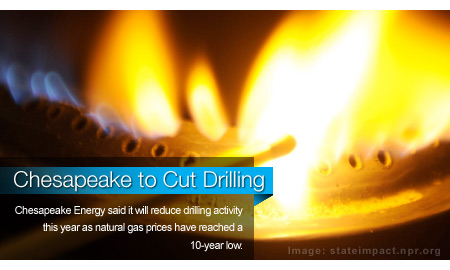 (Dow Jones Newswires), Jan. 23, 2012
Chesapeake Energy Corp., one of the oil and gas producers most responsible for the current glut of natural gas supply, said it will reduce drilling activity this year as natural gas prices have reached a 10-year low.
Chesapeake, based in Oklahoma City, is the second-largest U.S. natural-gas producer after Exxon Mobil Corp. After drilling more U.S. gas wells in recent years than any other company, Chesapeake has now warned it would cut spending on such wells if prices remained at current low levels.
"An exceptionally mild winter to date has pressured U.S. natural gas prices to levels below our prior expectations and below levels that are economically attractive for developing dry gas plays in the U.S., shale or otherwise," said Chief Executive Aubrey K. McClendon.
The current glut of natural gas partly stems from the U.S. energy industry's success with new exploration techniques, notably hydraulic fracturing of shale formations, or fracking. The boom in new production, plus lackluster demand amid a mild winter, helped drive natural gas prices Friday to $2.343 a million British thermal unit, down 26% month over month and down from nearly $14 in July 2008 as supply has far outstripped demand.
Monday, Chesapeake Energy said it will reduce operated dry gas drilling activity to approximately 24 rigs by the second quarter of this year, down by nearly half from 47 dry gas rigs it currently has in use.
Chesapeake will immediately curtail production by roughly half a billion cubic feet per day, or 8% of its current operated gross gas production of 6.3 billion cubic feet per day. Chesapeake could double the production curtailment to as much as 1 billion cubic feet per day if conditions warrant, the company said.
Chesapeake also said it will sharply cut drilling spending, forecasting it will chop dry gas drilling capital expenditures to $900 million in 2012, compared with $3.1 billion last year.
Chesapeake's move " throws down (a) gauntlet" for other producers to move away from natural gas production to help shore up prices, said energy analyst firm Tudor Pickering Holt & Co. Still, the company's shift from natural gas to oil production will keep its capital expenditures budget mostly unchanged, Tudor said in a note to clients.
Chesapeake earlier this month reported it slashed long-term debt by just over $2 billion over the past year and added it fully expects to meet its two-year debt-reduction goals by the end of this year, a view it confirmed Monday.
Copyright (c) 2012 Dow Jones & Company, Inc.
Generated by readers, the comments included herein do not reflect the views and opinions of Rigzone. All comments are subject to editorial review. Off-topic, inappropriate or insulting comments will be removed.
RELATED COMPANIES