EIA: U.S. Reliance on Energy Imports in Decline through 2035
by Karen Boman
|
Rigzone Staff
|
Monday, January 23, 2012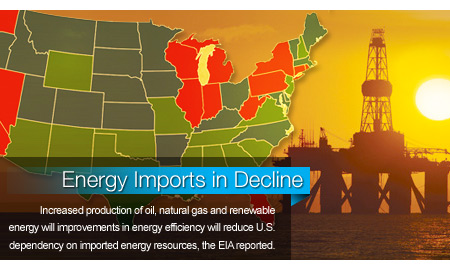 Increased production of oil, natural gas and renewable energy improvements in energy efficiency will reduce U.S. dependency on imported energy resources, the U.S. Energy Information Administration (EIA) reported today.
Continued development of tight oil in the onshore U.S. and exploration and production in the U.S. Gulf of Mexico will push domestic crude oil production in the Reference case to 6.7 million bopd in 2020, a level not seen since 1994. Even with a projected decline after 2020, U.S. crude oil production remains above 6.1 million bopd through 2035.
"With modest economic growth, increased efficiency, growing domestic production and continued adoption of nonpetroleum liquids, net petroleum imports make up a smaller share of total liquids consumption," EIA noted.
U.S. gas production will exceed consumption early in the next decade thanks to the shale gas production boom, with the U.S. expected to become a net exporter of liquefied natural gas (LNG) in 2016, a net pipeline exporter in 2025, and an overall net exporter of natural gas in 2021.
The share of natural gas used in electricity generation will grow from 24 percent in 2010 to 27 percent in 2035, while the share of renewables used in power generation will rise from 10 percent to 16 percent over the same time period.
However, EIA also revised its estimate of technically recoverable resource (TRR) for U.S. shale gas to 482 Tcf, substantially lower than the estimate of 827 Tcf in AEO2011. The decline largely reflects a decrease in the estimate for the Marcellus shale from 410 Tcf to 141 Tcf.
Both EIA and USGS have recently made significant revisions to their TRR estimates for the Marcellus shale; EIA noted that far more information on the Marcellus shale is now available due to accelerated drilling in 2010 and 2011.
The U.S. electric power sector's historical reliance on coal-fired power plants has begun to decline, and the projected share of coal in overall electricity generation falls to 39 percent, well below the 49 percent share seen as recently as 2007. This decline can be attributed to slow growth in electricity demand, continued competition from gas and renewable plants, and the need to comply with new environmental regulations.
Energy demand is expected to slow through 2035 due to an extended economic recovery and increased energy efficiency, EIA officials said. The share of fossil fuels in U.S. energy consumption is forecast to fall from 83 percent of total U.S. energy demand in 2010 to 77 percent in 2035.
Total U.S. primary energy consumption, which was 101.4 quadrillion Btu in 2007, is expected to grow from 98.2 quadrillion Btu in 2010 to 108.0 quadrillion Btu in 2035.
Global liquids consumption grows from 87.1 million bopd in 2010 to 109.7 million bopd in 2035, driven by growing demand in China, India, the Middle East and other developing countries.
EIA's findings were released Monday in the Annual Energy Outlook 2012 (AEO2012) Reference case, which includes updated projections for U.S. energy markets through 2035.
Projections in the AEO2012 Reference Case focus on factors that shape the long-term U.S. energy markets, under the assumption that current laws and regulations remain generally unchanged throughout the projection period.
"Our updated Reference case projections show natural gas and renewables gaining an increasing share of U.S. electric power generation, domestic crude oil and natural gas production growing, reliance on imported oil decreasing, U.S. natural gas production exceeding consumption, and energy-related carbon dioxide emissions remaining below their 2005 level through 2035," said EIA Acting Administrator Howard Gruenspecht.
"These projections reflect increased energy efficiency throughout the economy, updated assessments of energy technologies and domestic energy resources, the influence of evolving consumer preferences, and projected slow economic growth," said Gruenspecht.
The full AEO2012 report will be released in April.
Generated by readers, the comments included herein do not reflect the views and opinions of Rigzone. All comments are subject to editorial review. Off-topic, inappropriate or insulting comments will be removed.
RELATED COMPANIES