API: US Oil Use Down 1.2% in 2011
by David Bird
|
Dow Jones Newswires
|
Friday, January 20, 2012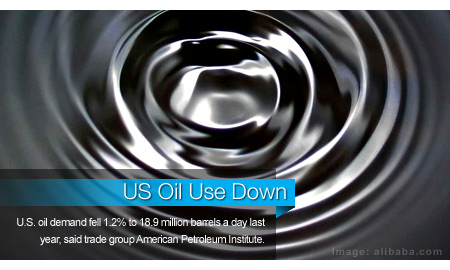 U.S. oil demand fell 1.2 percent to 18.9 million barrels a day last year, trade group American Petroleum Institute said Friday.
Early data from the federal Energy Information Administration issued Jan. 10 showed a 1.6 percent, or 310,000 barrels a day, drop to 18.87 million barrels a day. The International Energy Agency, the oil-market watchdog for the major industrialized nations, such as the U.S., that make up the Organization for Economic Co-operation and Development, this week estimated a decline of 1.8 percent, or 340,000 barrels a day, in U.S. demand, to 18.84 million barrels a day.
The API said its estimate for 2011 showed that, except for 2008, the drop in demand was the most in the last decade. December 2011 U.S. petroleum deliveries, a measure of demand, were down 5.9 percent from a year earlier, to a 15-year low of 18.6 million barrels a day.
Demand for gasoline, the most widely used U.S. petroleum product, fell 4.3 percent in December from a year ago, to 8.531 million barrels a day. Annual demand was 2.1 percent lower, at 8.803 million barrels a day.
"The weakness in gasoline demand in 2011 reflected the overall weakness in consumer spending," said John Felmy, API chief economist. Despite the decline in demand for refined products, supplies remained ample, with gasoline production for the year averaging a record high of 9.1 million barrels a day, up 0.5 percent from 2010. Distillate production, at 4.5 million barrels a day, was up 6.1 percent for the year. Refinery inputs fell by 1.5 percent in 2011 compared with 2010.
Demand for distillate fuel--diesel fuel and heating oil--rose 3.2 percent in 2011, to 3.921 million barrels a day. Within that figure, demand for ultra-low-sulfur diesel fuel rose 5.3 percent. Ultra-low-sulfur diesel fuel accounts for 90 percent of distillate demand.
Total petroleum imports dropped 5.6 percent in 2011, API said. Although up slightly in December, crude-oil imports for the year fell by 3.4 percent. Imports of refined products dropped 14 percent for the year and were down more than 33 percent for December.
Total petroleum exports--almost all of which were product exports--jumped 25.5 percent in 2011 compared with 2010.
Crude-oil production rose 2.5 percent in 2011 to an average of 5.6 million barrels a day. In December, crude-oil production rose by 0.5 percent to an eight-year high for the month.
Crude-oil stocks ended the year up 0.4 percent from 2010 and were at a 17-year high for December, at 334.6 million barrels, while gasoline stocks in December were up 0.1 percent from a year ago. Distillate stocks ended the year at 145.6 million barrels, down 11.4 percent from a year ago and at a five-year low for December, API said.
Generated by readers, the comments included herein do not reflect the views and opinions of Rigzone. All comments are subject to editorial review. Off-topic, inappropriate or insulting comments will be removed.
RELATED COMPANIES
Company: American Petroleum Institute (API)
more info