EIA: U.S. Gas Exports to Boost U.S. Gas Prices
by Karen Boman
|
Rigzone Staff
|
Thursday, January 19, 2012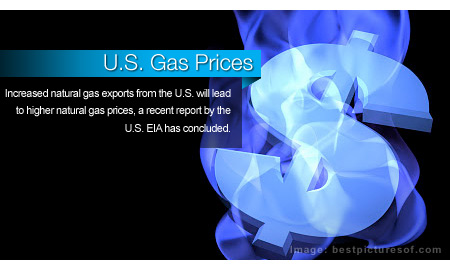 Increased natural gas exports from the U.S. will lead to higher natural gas prices, a recent report by the U.S. Energy Information Administration (EIA) has concluded.
Larger export leaders will lead to larger domestic price increases, while rapid increases in export levels lead to large initial price increases that moderate somewhat in a few years, EIA commented on Thursday.
"Slower increases in export levels lead to more gradual price increases but eventually produce higher average prices during the decade between 2025 and 2035," EIA said.
EIA concluded that U.S. gas markets will balance in response to increased gas exports mainly through increased gas production. Increased production will satisfy about 60 to 70 percent of increased gas exports, with a small contribution from Canadian gas imports.
Approximately three-quarters of this production increase will come from shale sources across most of the cases examined in the study. The remaining portion is supplied by gas that would have been consumed domestically if not for the higher prices.
"Due to higher prices, the electric power sector primarily shifts to coal-fired generation, and secondarily to renewable sources, thought there is some decrease in total generation due to the higher price of natural gas," EIA commented. "There is also a small reduction in natural gas use in all sectors from efficiency improvements and conservation."
U.S. consumers will see their gas and electricity bills increase on average, even as they consume less gas. From 2015 to 2035, gas bills paid by end-use consumers in the residential, commercial and industrial sectors will rise by three to nine percent over a comparable baseline case with no exports, depending on the export scenario and case.
Electricity bills paid by end-use customers will increase from one to three percent.
The report was conducted in response to an August 2011 request from the U.S. Department of Energy's Office of Fossil Energy for an analysis of different scenarios of how increased gas exports could impact domestic energy markets, focusing on consumption, production and prices.
Several liquefied natural gas terminals (LNG) constructed in the U.S. to import LNG are now seeking permission from the U.S. government to export LNG.
The explosion in U.S. shale gas production in recent years has unleashed significant gas supply in the U.S. market, and reversed previous forecasts that the U.S. would need to import LNG to meet domestic demand.
Generated by readers, the comments included herein do not reflect the views and opinions of Rigzone. All comments are subject to editorial review. Off-topic, inappropriate or insulting comments will be removed.
RELATED COMPANIES