Pemex Seeks Bids to Develop More Mature Oil Fields
by Anthony Harrup
|
Dow Jones Newswires
|
Thursday, January 19, 2012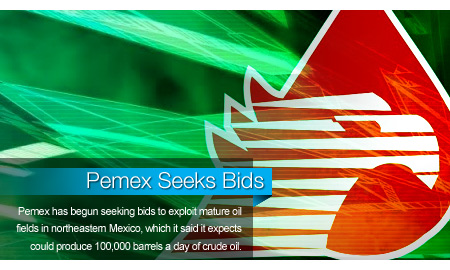 MEXICO CITY (Dow Jones Newswires), Jan. 19, 2012
Mexican state oil monopoly Petroleos Mexicanos, or Pemex, on Thursday began seeking bids to exploit mature oil fields in northeastern Mexico, which it said it expects could produce 100,000 barrels a day of crude oil within three or four years.
The bidding process is for six areas in the northern part of Veracruz and southern part of Tamaulipas states, including two offshore areas.
This is the second round of incentive contracts that Pemex is offering under a model designed following a limited overhaul of Mexico's oil laws in 2008. Mexico's constitution continues to ban oil and natural-gas concessions, and Pemex remains the owner of the reserves and any hydrocarbons produced.
The first of the new flexible contracts was awarded last year for the reactivation of onshore mature fields in southern Mexico. The contracts went to Petrofac Ltd. and oil-services company Schlumberger Ltd.
Pemex said it expects to award contracts for the latest round in June. The company said it is also working on model contracts for the onshore Chicontepec basin, which it expects to be ready by mid-year.
Pemex produced around 2.55 million barrels a day of crude oil in 2011, compared with 2.58 million barrels a day in 2010. Crude-oil exports totaled around 1.3 million barrels a day.
Copyright (c) 2012 Dow Jones & Company, Inc.
Generated by readers, the comments included herein do not reflect the views and opinions of Rigzone. All comments are subject to editorial review. Off-topic, inappropriate or insulting comments will be removed.
RELATED COMPANIES