Why Iran's President Wants to Bully the Oil World
|
Thursday, January 19, 2012
... And Why It Really May Not Matter All That Much Anyway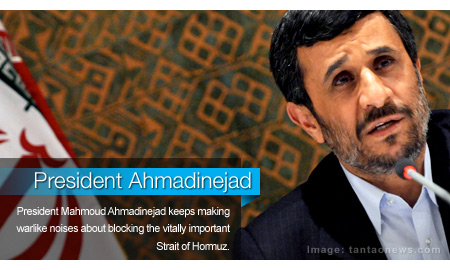 Like a powder keg with gasoline too nearby, Big Guns pile up in and around the Persian Gulf as Iran's current head of state, President Mahmoud Ahmadinejad, keeps making warlike noises about blocking the vitally important Strait of Hormuz – through which about 25 percent of the world's economy-driving oil supply must pass.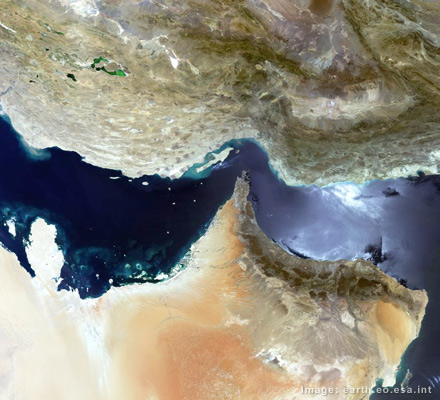 Strait of Hormuz
Is this the real enchilada or just more bully talk from the challenged Middle East leader, whom top energy and strategic policy experts (below) suggest might be shooting himself in both feet, while strangling his nation's economy and hurting his own people?
How would oil prices and supplies be affected if Iran's Ahmadinejad actually kept threats that seem to be mostly his government's, but possibly not most of his people's or definitely not most of the rest of the world's?
And, how is the oil market poised, anyway, as the year 2012 gets off to a bit too booming of a start?
Here's how two top oil and national security analysts view these situations, distilling key insights from the latest oil market reports by the International Energy Agency (IEA) in Paris, the Organization of Petroleum Exporting Countries (OPEC) in Vienna and the Energy Information Administration (EIA) in Washington.
Last but not least are some snippets from oil and nuclear war history for added perspective.
About Oil Market Fundamentals and Iran's Threat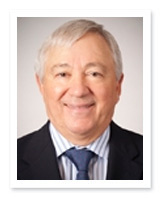 Guy Caruso, senior advisor for the non-profit Center for Strategic and International Studies joined Rigzone with his perspectives on these situations. In an online interview, Caruso said that:
"The global oil market is well-balanced heading into 2012. Demand in the industrial countries (OECD) looks pretty sluggish again because of relatively weak economic growth. Demand growth would be concentrated in the emerging economies particularly China, India and the Middle East. Most analysts expect 1 to 1.5 million barrels per day growth in global demand in 2012. Incremental supplies from OPEC and non-OPEC should be sufficient to meet that pace of demand growth without significant upward pressure on crude oil prices. Consensus projections are for crude oil prices in $100-110 per barrel range for 2012 (Brent) assuming no disruptions.
Caruso continued: "Iran is highly unlikely to carry out its threat to disrupt oil shipments through the Strait of Hormuz. They have more to lose than gain by cutting off their main source of revenue and the flow of commerce to their own country. Moreover, they would open the door to serious military intervention. Iran is more likely to attempt to circumvent tighter sanctions through selling oil at a discount to countries who have not agreed to the tighter sanctions, such as China and India.
"Nevertheless should there be a disruption, IEA countries are well-prepared to respond with a large coordinated stock drawdown, which should moderate the price impact," Caruso concluded.
Pressure From and On Iran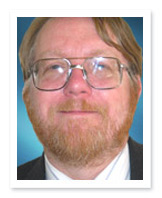 Mike Lynch, President of Energy SEER, an energy and national security think-tank, also joined this colloquy. In a special report written for Rigzone, Lynch commented:
"The conflict over Iran's nuclear program appears as if it will finally come to a head this year, largely as tightening sanctions make the internal political situation increasingly difficult. The potential outcomes are myriad, however, and could send oil prices either up or down, depending primarily on what the Iranian government decides to do.
"Economic sanctions are unlikely to stop oil exports for any length of time, as there are a number of buyers who appear willing to participate, including the Chinese and Indians. In the unlikely event that all major importers are convinced to enforce sanctions, then it would be more difficult for Iran to place all of its supply, but given that Europe is acting on its own, shifting its sales to new customers will, at most, mean brief delays in deliveries and possibly minor discounts. At the worst, entrepot refiners and traders will buy and 'cleanse' their oil.
"More importantly, the combination of sanctions and economic mismanagement are creating growing pressures on the [Iranian] government, as citizens find themselves sacrificing more and more. The reduction in subsidies for oil and food, which were nearly crippling the government, has apparently caused broad discontent, with cash payments not sufficient to offset the higher prices for commodities.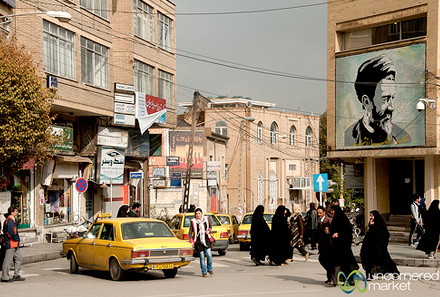 Image Courtesy: Uncornered Market
Price Impact of Iran in War History
Lynch continued: "The [Iranian] government—or at least some parts of it—might actually prefer external conflict to distract the public from the [nation's] economic problems. Threats against shipping in the Straits of Hormuz, and ordering the U.S. Navy to stay out of the Arabian/Persian Gulf, are almost certainly reflections of this strategy. The Revolutionary Guards have a long history of provocations, seizing British sailors, making aggressive moves towards 'neutral' warships, and is not conciliatory at the best of times.
"More pertinent, the tanker war of the 1980s included attacks on a total of 44 tankers (Iraqi, Kuwaiti and Saudi) and the laying of mines. Naturally, the high level of surplus capacity in other countries meant that markets did not put a security premium on the price of oil. But more than that, the production from the two combatant countries was not affected, as the figure shows. Insurance rates on shipping rose, and there were occasional delays, but the impact on the market was mild.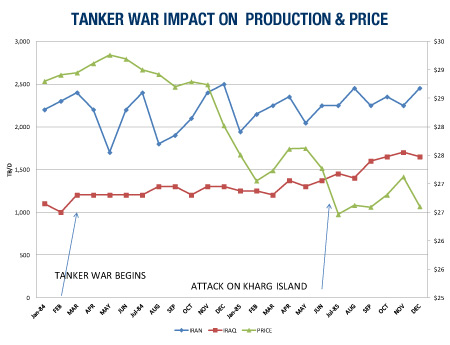 Changes in OPEC and Iran since the 1980s
"Of course," Lynch said, "It helped that OPEC members had huge amounts of surplus capacity available, and could easily offset losses, which reassured the market (i.e., traders). The situation is very different now, with a fairly tight market and almost no unused production capacity outside the Gulf, so traders react quickly to threats against shipping, which is clearly the reason for the current, elevated price.
"And bear in mind that the tanker war occurred in the context of a massive, bloody land war. Attacking neutral shipping, such as Kuwaiti or Saudi, now would have major diplomatic consequences at a time when the Iranian political position in the region has improved. And the sinking of a tanker with Iraqi crude would clearly damage their influence in Iraq, which has strengthened with the withdrawal of U.S. troops, but where many of the public remember past conflicts.
"Assuming military conflict does occur, a number of possible scenarios present themselves: the primary divide is whether or not there are actual military attacks on shipping, as that will determine the response of the US (and possibly other allies). Conceivably, one or two attacks by 'renegade' (i.e., deniable) Guard commanders could occur without authorization from the central government, but this would probably draw the same military response as a major assault.
"The Iranians are much better armed than in the 1980s, and their possession of surface launched anti-shipping missiles means they can inflict significant damage, and quickly. However, the US also has more advanced munitions and after an initial air assault against military bases, drones should suppress missile fire pretty effectively.
What If? The Economic Etc. Impact of War
"Still," Lynch continued, "A massive, planned attack on shipping should do some damage, with perhaps a half a dozen tankers lost, meaning as much as 15 million barrels of oil dumped into the long-suffering Gulf. The environmental consequences would be severe, but the oil 'lost' to the market would not be enough to have a serious impact.
"Instead, the immediate cessation of shipping into the Gulf, as tanker owners (and captains) refuse to risk their assets (and lives), while insurers send rates soaring to prohibitive levels. Until foreign military forces reduce the Iranian ability to attack, as much as 12 million barrels a day of oil will be kept in storage (or the ground).
"Any actual military action would almost certainly bring down US and allied military attacks on all naval, air, and missile installations in Iran. Within two weeks at the most, these would be suppressed to the point of all but total inoperability, and the Iranians would have little ability beyond the occasional missile or speedboat attack.
Lower Oil Prices?
"Even worse for the Iranians, there would almost certainly be a naval blockade against their own oil exports, since the US could be expected to retaliate and most other nations would be disinclined to protest. This would devastate their economy and probably lead to a collapse in the government.
"Given all this, it makes sense that the Iranians are talking about reopening negotiations over their nuclear power program, even if just as a stalling maneuver. With the European economy straining, and presidential elections looming in the US, the desire on the part of the Western consortium to achieve an agreement that would reduce tensions and lower oil prices seems clear. Any such agreement, even if temporary and conditional, would put serious pressure on oil prices, leading to a drop of as much as $20/barrel in a short time.
"In the meantime, though, expect continued threats, probably escalating, from parts of the Iranian regime which will keep bullish pressure on prices, and make it difficult for Brent to fall below $100 a barrel, even if, as expected, the fundamentals don't improve."