Mulva: U.S. Govt Needs 'Constructive Role' in U.S. Shale Boom
by Karen Boman
|
Rigzone Staff
|
Wednesday, January 18, 2012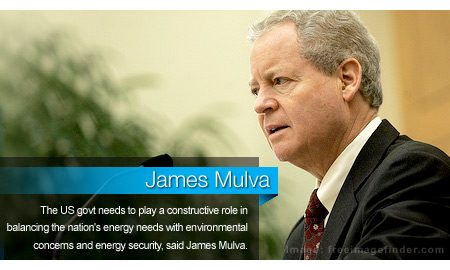 The U.S. government needs to play a constructive role in balancing the nation's energy needs with environmental concerns and energy security, ConocoPhillips Chairman and CEO James Mulva told attendees at the North American Energy Resources Summit at Rice University in Houston on Wednesday.
The renaissance that is taking place in U.S. oil and gas production thanks to the unconventional shale boom push production levels to 22 million bopd, close to peak production levels not seen since the early 1970s. Unconventional oil and gas production is expected to account for one-third of U.S. production by 2020.
The unconventional shale boom has not only boosted U.S. energy production, but revived what was considered a sunset industry, and created new opportunities for job creation and economic growth, Mulva noted.
While hydraulic fracturing and horizontal drilling have been used extensively throughout the U.S. since the 1940s and 1980s, Mulva commented that the industry does need "reasonable, smart, thoughtful" regulations regarding shale exploration and production, and a federal tax policy that will help the industry keep its competitive edge.
The unexpected massive increase in North America's estimated economically recoverable natural gas, and to a lesser extent oil, hold enormous potential positive impacts but are not as yet fully appreciated by the U.S. public, business, and the nation's political leadership.
However, significant environmental challenges are associated with the successful and responsible widespread shale gas deployment, according to John Deutch, emeritus institute professor of the Massachusetts Institute of Technology's Department of Chemistry.
"Absent serious action to reduce the environmental impact, not just talk about the need for such action, we run the risk of losing the public's confidence in this technology and delaying or prohibiting its growth," Deutch told attendees atvia video.
While the U.S. government needs to adjust its policies, the industry also needs to adjust its practices to fully capitalize on the shale opportunity.
"Unfortunately, my impression is that neither government nor business is doing what needs to be done, and therefore we are implicitly assuming that past practices are adequate to deal with this entirely new opportunity," Deutch commented.
The industry not only faces opposition from environmental groups, but from grassroots efforts of the U.S. public who have lost faith in the industry. Reasons for this include it's the industry's initial resistance to reveal the ingredients of hydraulic fracturing fluids to concerns over rural areas turned into industrial sites with heavy truck traffic and activity to allegations of unfair leases.
"They act like it's unreasonable for the public to be concerned over frack fluids when they have exemptions that no other industry enjoys," said Peter H. Lehner, executive director of the Natural Resources Defense Council.
The oil and gas industry also needs to acknowledge climate change not as an opinion, but as a scientific fact and economic reality.
"There is no doubt that that climate change is occurring," Lehner commented, pointing out the shifting weather patterns and rising sea levels worldwide.
While natural gas has been heavily touted as an alternative to coal for power plants in the U.S., Lehner said that oil and gas companies need to be willing to accept carbon dioxide (CO2) limits on their operations rather than fighting negotiations. CO2 emissions will still pose an issue, as natural gas, when burned, also emits CO2.
Generated by readers, the comments included herein do not reflect the views and opinions of Rigzone. All comments are subject to editorial review. Off-topic, inappropriate or insulting comments will be removed.