Pemex Rescued 213 Workers from Burning Platform
Rigzone Staff
|
Wednesday, January 18, 2012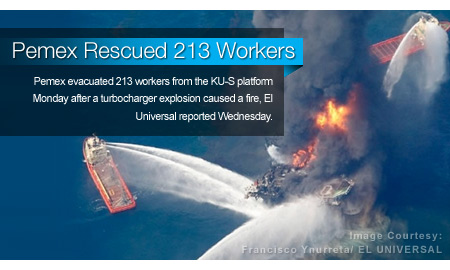 Petroleos Mexicanos (Pemex) evacuated 213 workers from the KU-S platform in the Ku Maloob Zaap field Monday after a turbocharger explosion caused a fire, El Universal reported Wednesday. No injuries have been reported among the workers.
Pemex has shut in production from the platform. The Ku Maloob Zaap field is located 65 miles (104.61 kilometers) northwest of Ciudad del Carmen in the Bay of Campeche. Water depth at the field is estimated at 330 feet (100.58 meters).
Ku-Maloob-Zaap is Mexico's largest oil producing field, and has been the largest source of new production growth in the past few years. Located adjacent to the Cantarell oil field, Ku-Maloob-Zaap produced 839,200 bopd in 2010, up from 808,000 bopd in 2009.
In recent years, Ku-Maloob-Zaap has surpassed the Cantarell oil field, once one of the largest oil fields in the world, in terms of production. Cantarell production has declined dramatically in the past several years, according to the U.S. Energy Information Administration.
Last year, Cantarell produced 558,000 b/d, down 19 percent from 2009 and 74 percent from peak production of 2.14 million barrels in 2004.
Generated by readers, the comments included herein do not reflect the views and opinions of Rigzone. All comments are subject to editorial review. Off-topic, inappropriate or insulting comments will be removed.