UPDATE: Obama Administration Rejects Keystone XL
by Matthew V. Veazey
|
Rigzone Staff
|
Wednesday, January 18, 2012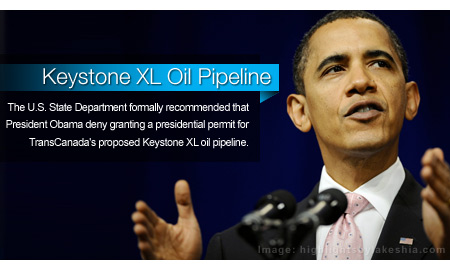 The U.S. State Department on Wednesday formally recommended that President Obama deny granting a presidential permit for TransCanada's proposed Keystone XL oil pipeline which would carry diluted bitumen from Canada's oil sands to U.S. Gulf Coast refiners. Moreover, the agency advised Obama that the project is not in the national interest.
"As the State Department made clear last month, the rushed and arbitrary deadline insisted on by Congressional Republicans prevented a full assessment of the pipeline's impact, especially the health and safety of the American people, as well as our environment," Obama said in a prepared statement.
The State Department, which has jurisdiction over the project because the pipeline would cross an international border, contends that it had insufficient time to collect enough information to determine if the project in its current state is in the national interest.
In 2008, the State Department launched a rigorous review of TransCanada's permit application for the proposed $7 billion project. It issued its environmental review on August 26, 2011. Before moving forward, the project still needed to obtain a decision by President Obama confirming that it is in the national interest.
Although the legislation containing the Keystone provision passed a Democrat-controlled Senate and GOP-controlled House, Obama asserted that "Republicans in Congress forced this decision." The President also noted, however, that the decision "is not a judgment on the merits of the pipeline."
Following the State Department's announcement Wednesday, TransCanada said that it would re-apply for a Presidential Permit.
For the complete story on the Obama Administration's decision, please click here to read the article on DownstreamToday.com
Generated by readers, the comments included herein do not reflect the views and opinions of Rigzone. All comments are subject to editorial review. Off-topic, inappropriate or insulting comments will be removed.