IEA Slashes Oil Demand Forecasts On Risk Of Sharp Slowdown
by James Herron
|
Dow Jones Newswires
|
Wednesday, January 18, 2012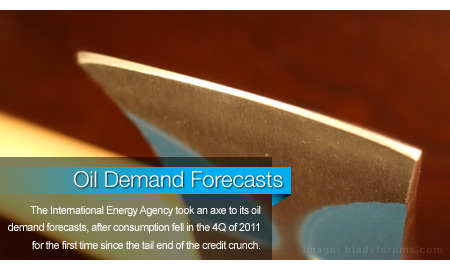 LONDON (Dow Jones Newswires), Jan. 18, 2012
The International Energy Agency Wednesday took an axe to its oil demand forecasts, after consumption fell in the fourth quarter of 2011 for the first time since the tail end of the credit crunch.
The agency, which represents major energy-consuming rich countries, warned of, "the rising likelihood of a sharp economic slow-down, if not outright recession," that creates the very real possibility of zero oil demand growth in 2012.
The agency warned of multiple risks to oil supply, not least looming sanctions against Iranian crude exports that could cause significant oil supply difficulties for European refiners. However, the IEA also noted that Western sanctions are unlikely to have a meaningful effect until the middle of the year and will probably be flexible enough to avoid a severe oil market reaction.
"Slowing oil demand growth has outpaced downgrades to economic forecasts," said the IEA in its monthly oil market report.
Oil demand in the fourth quarter surprised the IEA by falling 300,000 barrels a day on the same period the previous year. The IEA forecast last month slight growth in fourth quarter demand, but a combination of mild weather, economic weakness and high crude prices reduced consumption for the first time since the depths of the great recession in the third quarter of 2009.
The IEA slashed a further 500,000 barrels a day from its demand forecast for the first quarter of 2012, citing the same "growth-impeding" combination of economic woes in Europe and continued high prices due to the tensions between Iran and the West.
Oil demand growth for the whole of 2012 was cut by 200,000 barrels a day to 1.1 million barrels a day. "Upcoming revision to the GDP forecasts of the IMF and other institutions might result in much weaker growth still," it said.
Barring further revisions, the IEA's current forecasts leave the oil market almost perfectly balanced in 2012. The world's requirement for crude oil from the Organization of Petroleum Exporting Countries is exactly the 30 million barrel a day production ceiling the group agreed in December, it said.
Almost all of the growth in demand for oil in 2012 will be met from higher production outside OPEC, it said.
Copyright (c) 2012 Dow Jones & Company, Inc.
Generated by readers, the comments included herein do not reflect the views and opinions of Rigzone. All comments are subject to editorial review. Off-topic, inappropriate or insulting comments will be removed.
RELATED COMPANIES
Company: International Energy Agency (IEA)
more info