US Warns Iran Over Blocking Oil Strait
Dow Jones Newswires
|
Friday, January 13, 2012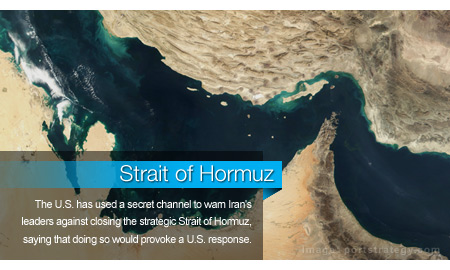 WASHINGTON (Dow Jones Newswires), Jan. 13, 2012
The U.S. has used a secret channel to warn Iran's leaders against closing the strategic Strait of Hormuz, saying that doing so would provoke a U.S. response, The New York Times reported.
Iran has threatened to close the narrow and strategic waterway--a chokepoint for one fifth of the world's traded oil--in the event of a military strike or the severe tightening of international sanctions.
The Times, citing unnamed U.S. officials, said late Thursday that the White House has communicated to Iran's Supreme Leader Ayatollah Ali Khamenei that closing the strait would be a "red line" and provoke a response.
The officials didn't provide further details about the covert communication channel, except to say that it was separate from the Swiss government, through which the U.S. occasionally relays messages to Iran's leaders.
The White House wouldn't confirm specifically that it had contacted Iran through the secret channel regarding the Strait, but said it had ways of making its views clear to the Iranian government.
"We have used those mechanisms regularly on a range of issues over the years," said White House spokesman Jay Carney.
"Any message that we have delivered to the Iranian government would be the same as what we've said publicly," he said.
"The United States and the international community have a strong interest in the free flow of commerce and freedom of navigation in all international waterways."
Washington and its allies have stepped up increasingly harsh sanctions on Iran over its nuclear enrichment program, which they have charged is part of a secret drive to develop nuclear weapons.
Iran has insisted its nuclear program is entirely peaceful and vowed to retaliate against any strike on its facilities.
Tensions have flared in recent days following the killing of an Iranian nuclear scientist in a bombing Tehran has blamed on U.S. and Israeli intelligence services. U.S. officials have denied any involvement in the attack.
Iran's Revolutionary Guards have announced new naval maneuvers in the Strait of Hormuz within the next few weeks, underlining Tehran's threat to close the narrow channel between the Persian Gulf and the Arabian Sea.
Washington has meanwhile sent a second aircraft carrier to waters just outside the Gulf, and a third is on its way.
Copyright (c) 2012 Dow Jones & Company, Inc.
Generated by readers, the comments included herein do not reflect the views and opinions of Rigzone. All comments are subject to editorial review. Off-topic, inappropriate or insulting comments will be removed.